The classic charm remains at this enduring ski resort, the oldest and longest running one on the West Coast.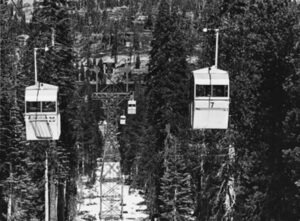 Anyone who has traveled to Sugar Bowl ski resort, parked in the small lot just off Old Highway 40, then climbed into the ageless Magic Carpet Gondola that transports skiers and snowboarders to the village, has received a huge whiff of the history that emanates from arguably the Lake Tahoe area's most iconic ski resorts.
Built at an estimated cost of $250,000 during the summer of 1953, the gondola was the first aerial tramway on the West Coast and only the second of its kind to be used at a North American ski resort. In 1983, CTEC rebuilt the gondola and added 50 new cabins. Today it moves along at 800 feet per minute and can transport 1,000 riders per hour.
"When people are on the gondola, I think they really get a sense of the history here, it's a definite slice of the past, a 1940-style entry into the village," said Jon Slaughter,  Sugar Bowl director for marketing and sales. "Taking that gondola ride and experiencing the village literally stops people in their tracks."
Tracks are sparse on a Monday in early January. The bustling crowds that congregated at Sugar Bowl for nearly two weeks over the Christmas holidays are gone, leaving this beautiful mountain and its four striking peaks somewhat deserted.
Now in its 81st season, Sugar Bowl has managed to keep its classic ski atmosphere, while also providing modern amenities that keep skiers and riders coming on a regular basis.
Sugar Bowl is home to skiers and riders of all levels, offering accommodating terrain for beginners and difficult runs that will challenge top-level skiers. Situated on 1,650 acres, Sugar Bowl features 13 lifts, 103 runs and annually gets 500 inches of snow.
Sugar Bowl has a unique place in California's history. This aging ski resort oozes a magical appeal and history, serving as a museum of sorts. Long before the arrival of quad chairs, shaped skis and terrain parks, Hollywood celebrities and average folks often mingled together on the slopes at Sugar Bowl.
The winter playground for many actors when it first opened, Sugar Bowl frequently welcomed actor Errol Flynn, who liked to sit on the porch of the popular Sugar Bowl lodge. He reportedly soaked up the sun while also keeping a close eye on the ladies.
Women often walked by Flynn in amazement, finding it difficult to believe the famed Hollywood playboy was in their midst. Girl-watching might have been his favorite pastime, but the rumor mill indicates the swashbuckling actor was a fairly gifted skier as well.
Walt Disney took a more wholesome approach to his Sugar Bowl visits. An original investor and buddy of founder Austrian Hannes Schroll when the resort opened in 1939, Disney often arrived on a ski vacation with his family.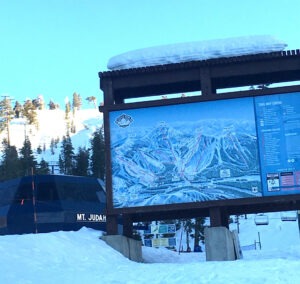 Legend has it that one evening he filled in as bartender for several hours on a busy night, pouring drinks in anonymity at The Lodge at Sugar Bowl. The amiable Disney was so well liked around Sugar Bowl that the resort named its first lift in his honor.
Sugar Bowl's former rich-and-famous skiers include Robert Stack, who grew up in Lake Tahoe, Bing Crosby, Doris Day, Claudette Colbert, Clint Eastwood, Marilyn Monroe, famed broadcaster Lowell Thomas, billionaire Howard Hughes, and British pop singer Petula Clark.
But Sugar Bowl has refused to reside solely in its past.
In 1998, a 20,000 square-foot main lodge at the base of Mt. Judah was added, an addition that came with much-needed slopeside parking. That was followed by building the Jerome Creek Lodge, giving Sugar Bowl a modernized facility that includes condominiums for rent, which provides ski-in, ski-out lodging at the base of Mt. Judah.
"The classic charm is still there," said Bill Hudson, former Executive Director of the Sugar Bowl Ski Team Foundation, who frequently skied Sugar Bowl in his youth. "I don't think it's lost that feeling. They've updated things, but the resort still has that same style people have always loved."