Although historically ski resorts go into hibernation and are ignored after the final lift has been shut down for the season, that's certainly not the case at Heavenly Mountain Resort in Lake Tahoe.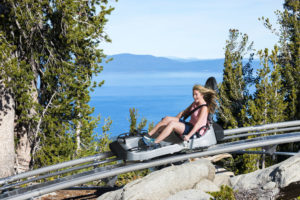 In fact, there's much more to do in the summer months on Heavenly's scenic mountain than anytime during ski season.
With the ski season not as lucrative over the past decade due to climate change (typically resulting in less man-made snow) and fewer skier and snowboarder visits, resorts nationwide have turned to the summer months as another income source.
"The summer season is huge for us," explained Kevin Cooper, Heavenly Mountain's senior manager of communications. "Many people don't realize this, but the summers are actually a busier time for tourists in South Lake Tahoe than winter."
One of three Vail Resorts Inc. ski resorts in Lake Tahoe (Kirkwood, Northstar are the other two), Heavenly Mountain Resort has developed a plethora of summer activities that are family friendly. While many of the offerings are designed for kids, active adults can also join in the fun. Awaiting at the end of a scenic Gondola ride up to the Tamarack area of Heavenly is an entire day of fun.
The activities are diverse, ranging from a heart-pounding Mountain Coaster (a speedy roller coaster with a fabulous view) to a modest zip line ride that people of all ages can undertake. There are roughly 14 activity choices, including rope courses, zip lines, Mountain Coaster, climbing walls, tubing, guided hiking tours, and more. A few are specifically for young kids, but most of the activities can be enjoyed together as a family.
And that's what you will mostly find at Heavenly, families smiling, laughing and some of them screaming for joy on exhilarating rides and adventures that not only challenge one physically, but also test one's ability to handle some high-intensity rides and activities. It's Heavenly Mountain's answer to Disneyland!
"All our activities have an element of skill and athleticism. We are offering our guests the opportunity to do things they never thought they could do," Cooper said. "It's awesome that families can go out and enjoy all the various activities on our mountain."
Among the many Vail Resorts, only Heavenly and two Colorado resorts (Breckenridge, Vail) have developed extensive summer activities that are luring thousands of people each summer to their mountain playgrounds.
Perhaps the most popular offering at Heavenly is the Mountain Coaster. The exhilarating ride debuted several years ago, but was destroyed in the 2017 winter when an extreme amount of snow crushed the track. It was carefully rebuilt last summer with improvements and is back in action again this summer.
Once your coaster makes the slow descent to the top, be prepared for some serious fun. The top speed is 27 mph and riders (single or double) can control the speed with hand brakes as the coaster whips through the turns and descent. A tip here is don't use the brake at all – assuming you are more of a thrill-seeker.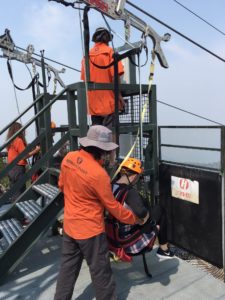 The coaster ride is 3,400-foot long and includes a 300-foot vertical drop. Don't forget to soak in the scenery – iconic forest rock formations, panoramic views of Lake Tahoe – as the ride zips along. If the coaster is part of your package deal, one can ride it as many times as they want. The wait on this particular Monday between rides was approximately 30 minutes most of the day until it reduced to around five minutes late in the afternoon.
"The coaster ride is much more exciting than I expected," said DJ Brown, who lives in Rocklin, CA. "My daughter and I rode it together several times because it goes faster when two people are in it. It's similar to a very cool roller-coaster ride at an amusement park."
Another thrill ride is the Blue Streak Zip Line, which travels down a modest grade at speeds between 35-55 mph. Guests are securely harnessed and sitting down during the ride, which lasts about a minute and travels 3,300 feet while offering views of the lake about 95 percent of the ride.
We were a bit surprised to learn that the tubing hill was open, a ride we had experienced several times in the winter months. While not as fast in summer, the tubes head down the 500-foot hill on a tubing surface that is quick enough to be enjoyed by all ages. The wait was around 30 minutes between rides.
The Gondola, which can be accessed near the Heavenly Village close to the Stateline casinos, has daily hours between 9 a.m. to 5 p.m. Activities on the mountain are available from 9:30 a.m. to 4 p.m. Guests can purchase several different packages, including ones that provide family discounts and include multiple activities, Single activities can be purchased as well. The Ultimate Adventure Pass includes nearly everything Heavenly offers.
Leave the flip-flops back in the hotel room because closed-toed athletic shoes are required for all activities. Lunch is available at the Tamarack Lodge and there are several drink-food vendors located amongst the primary activity area.
Below is a short description of the activities at Heavenly.
Children's Flyer zip line: Available for kids, the zip line is15 feet off the ground and 100 feet long, providing a great introduction to zip lining for children.
Granite Peak climbing wall: The man-made rock wall is inspired by the iconic rock formations found in the Sierra Nevada mountain range. The permanent wall utilizes auto-belays and is 25-feet tall with 15 defined climbing routes varying in difficulty, so all ability and experience levels are welcome.
Mountain Coaster: This gravity-powered alpine coaster travels through forest and natural rock formations. The coaster sleds fit up to two riders, so you can enjoy this activity with others. Drivers must be at least age 16 (if accompanied by a passenger), and between 54-84-feet tall.
Blue Streak Zip Line: Experience the gorgeous views of the lake as you glide through the sky on the 3,300-foot-long zip line at speeds that reach 55 mph. It's not a true adrenaline fix, but it's close.
Gemstone panning: An interactive activity simulating the gold panning that made the famed Gold Rush such a fascinating historical phenomenon that began in the mid-1800s. This activity gives a great historical context for the kids, and there's a chance of departing with a cool souvenir.

The Granite Peak climbing wall utilizes auto-belays and is 25-feet tall with 15 defined climbing routes varying in difficulty, so all ability and experience levels are welcome.

Tubing: Breeze down the 500-foot hill on a specially designed tubing surface. There's a special tubing track for kids under 42-inches tall. This course is banked and perfect for youngsters. It can be booked as part of the Scout Sampler Pass.
Gondola ride: A 2.4-mile ride provides panoramic views of Lake Tahoe. On the way up, there's an option to get off at the Observation deck, which is a wonderful spot for photos, a beverage at the Cafe Blue, or a souvenir at the shop. The Gondola offers access to a series of free hiking trails, ranging from beginner to expert.
Ropes courses: A variety of courses and obstacles for all types of groups and ages. There are multiple options, ranging from rope courses specifically for kids, courses for beginners, one for more advanced folks, and the Discovery Forest, a treetop adventure that is fully integrated into the natural environment.
Skyway Zip Line Tour: Alpine adventure with the guided Canopy tour. Guests immerse themselves in the forest habitat with seven zip lines, two aerial bridges and one rappel station. Also learn about the mountain ecosystem while working through each challenge.
Summit Expedition 4×4 Mountain Tour: Explore Heavenly in this open-air, off-road ATV while on a guided tour around the mountain. The tour visits several mountain peaks, including Job, Job's Sister and Freel Peak.
Bear Cub Ropes Course: The children's rope course is a sized-down version of Heavenly's larger rope courses (Boulder Cove and Black Bear) and features similar obstacles, including ropes and logs that are suspended five to eight feet off the ground.

The tubing hill is a 500-foot ride on a tubing surface that is quick enough to be enjoyed by all ages.

Discovery Day Camp: The summer kids camp offers a day of nature, exploration, adventure, and fun. Children ages 5-12 spend an entire day with camp leaders exploring the outdoors and doing activities like rope courses, scavenger hunts, hiking, relay games, wilderness survival skills, and more. Half-day, full-day and multi-day packages are available.
Epic Discovery Center: In collaboration with Heavenly and the U.S. Forest Service, this interactive center features a theater and kid's zone. There is also a water bottle filling station modeled after the Sierra Nevada mountain range's complex and fragile watershed.
For more information on summer activities at Heavenly Mountain, visit www.skiheavenly.com or call 775 586-7000.