Both Heavenly and Kirkwood ski resorts in Lake Tahoe have some upcoming, fun events prior to the 2021-22 season coming to a close.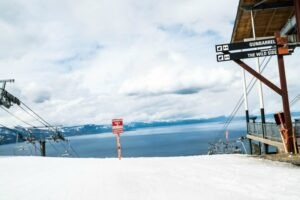 Located in South Lake Tahoe, Heavenly has added an extra week to its planned ski season, pushing the date back to Sunday, April 24.
Kirkwood is situated off Highway 88, 36 miles from Heavenly. Kirkwood will extend its season by three weeks, with a closing date of Sunday, May 1.
"Our operational teams are focused on a variety of factors, including snowpack and elevation," Vail Resorts spokesperson Dennis Baggett said. "Our hope is that all of our pass holders and guests can enjoy the rest of the season, especially given the excitement that comes along with spring skiing and the diversity of terrain offered between Heavenly and Kirkwood."
Below are two traditional events at Heavenly ski resort.
GUNBARREL 25: Scheduled for Saturday, March 26, the annual event is a spring skiing favorite at Heavenly.
Advanced skiers try to be the fastest to get 25 runs down the famed Face and Gunbarrel runs on the California side of the resort.
It's one of those events where everyone is literally a winner. Just finishing the 25 physically demanding laps is a display of incredible stamina and athleticism.
POND SKIM: Slated for Saturday, April 2, this spring skiing classic invites daredevils to attempt to get enough speed on snow to make it across the water without falling.
It's a fun atmosphere with a crowd of skiers and riders cheering – or jeering the participants. Many of the skiers and riders don't make it all the way across the water, which is when the fun really begins.
To view the full Heavenly event calendar, click here.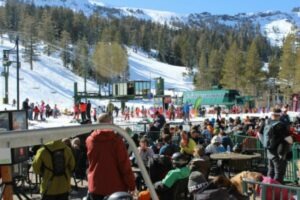 Below are two traditional events at Kirkwood ski resort.
FREERIDE WORLD QUALIFIERS: The national tour visits Kirkwood on Tuesday, March 29.
The Freeride World Tour event gives Kirkwood the opportunity to emphasize what its strength is as a resort – it can accommodate big mountain skiing and riding.
Fans can view world class riding up close. And this event is also quite the party for spectators.
For more information on the Freeride event, click here.
KIRKWOOD DEEP: This event showcases the amazing riding, beautiful scenery, and inspiring stories that emulate from Kirkwood.
To view the Kirkwood event calendar, click here.
NORTHSTAR CLOSING DATE: Heavenly and Kirkwood form two-thirds of the Vail Resorts in the Lake Tahoe region. The third Vail Resort – Northstar California – is expected to close Sunday, April 17.
"Overall, we're really pleased with how this season has gone – we've focused on providing a great guest experience and are looking forward to finishing the season strong, with some really excellent spring skiing/riding in the mix," said Vail Resorts' West Region Director of Communications Sarah Roston.