A GoFundMe page has been set up for Tahoe teenage skier Scotty Lapp, who tragically died Sunday (Feb. 13) in a skiing accident at Palisades Tahoe.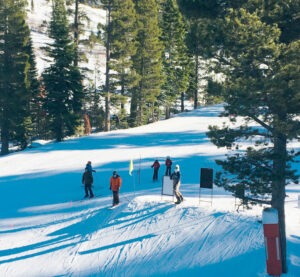 The 15-year-old Lapp was a sophomore at North Tahoe High School, according to Tahoe Truckee Unified School District. He was a frequent skier at Palisades Tahoe.
The newly-started GoFundMe page shows a picture of Lapp. The page details an effort to build a Tahoe City skate park in his name. It labels Lapp as one of the "most positive, adventurous people you could ever meet."
Ryder Schwartz skied on the same Palisades Tahoe ski team and recalls Lapp as a leader among his peers.
"When I heard about it, my heart just sank," Schwartz told CBS-13 reporter Steve Large on Monday. "Some of my younger friends are his friends and they were there and they witnessed it. I can't imagine what it must have been going through their heads. I mean that is a traumatic experience at a young age."
According to Palisades resort spokesperson Kat Walton, at around 2 p.m. there were two teenaged boys skiing on the Yellow Trail on the Alpine Meadows side of the resort when they collided.
An accomplished skier, Lapp was a member of the Palisades Tahoe Big Mountain Competition team. The other skier, who wasn't identified, was on the Olympic Valley Freestyle team.
Lapp died as a result of his injuries in the collision on the Yellow Trail at the Alpine Meadows side of Palisades Tahoe. The other skier was flown to Renown Hospital in Reno where he is said to be recovering.
"Our hearts are broken at Tahoe Truckee Unified School District and our deepest sympathies are extended to the Lapp family and his friends," the Truckee District said in a statement, where it announced extensive support measures would be available for students and staff.
Classmates at North Tahoe High describe Lapp as well-liked. He was relatively new to the school, enrolling a year ago,
A crisis counselor was at Palisades Tahoe on Sunday offering comfort to the teammates of both skiers. Support services are also being offered for students Monday at the high school.
The Olympic Valley Fire Department said its crews assisted in responding to a handful of skiing accidents at Palisades on Sunday, including the deadly one.