What a season it was at California ski resorts. And because he didn't want to miss the final day, legendary professional skier Glen Plake took a few runs Sunday on the final day of the ski season at Mammoth Mountain.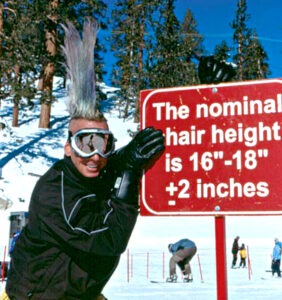 A South Lake Tahoe native, Plake was on hand for the incredible 275th day of skiing this season at Mammoth Mountain. The California ski resort opened the 2022-23 ski season Nov. 5 and officially closed Aug. 6. Mammoth is just 96 days away from reopening Nov. 10, 2023.
Plake, age 58, provided a shout out to the Mammoth team on his Instagram account.
"Officially ended – sure a lot of snow ❄️ fell this year, but it's the dedication and hard work of its skiers, employees and management that makes Mammoth the greatest place to ski. Not because of the date on the calendar, but because there's snow on the ground. Thanks Everyone and ski y'a at the lake (it's FULL)."
On Sunday, Plake personally thanked the hard-working ski patrollers for their tireless efforts to keep the mountain open throughout what was a challenging season (to say the least).
According to Plake, Mammoth Mountain's Ski Patrol used 9,000 hand charges and over 1,000 artillery rounds to mitigate avalanches throughout the season.
Mammoth was able to extend the season into August due to a staggering amount of snowfall this season, the most in resort history. The resort received 885 inches of snow at its summit and 715 at its base lodge area. In an average season, Mammoth usually gets around 400 inches of snow at its base.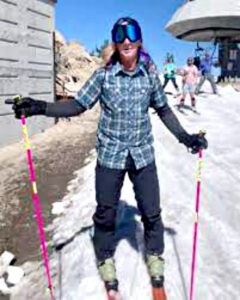 Known for his flaming red hair, Plake is a U.S. National Ski Hall of Fame skier. He grew up in Tahoe, skiing on the Heavenly race team as a kid. He is known for his appearances in ski films such as Greg Stump's The Blizzard of Aahhhs. Plake has been named a pioneer of extreme skiing in America by ESPN.
Plake and his wife Kimberly are known as skiing vagabonds, living continuously on the road during the winter months and vacationing at their home in Nevada or their apartment in Chamonix, France, depending on the season.
Located on California's Eastern Sierra range, approximately 100 miles south of the Nevada state line and 50 minutes from the eastern gate of Yosemite, Mammoth Mountain often stays open into June or July. But August? Not too often.
This is only the third time in the resort's 69-year history that Mammoth has remained open into August. The other two times were 1995 and 2017.
Despite the late closing, Mammoth was not the last ski resort in the U.S. to still offer skiing and riding. Timberline Lodge, located on Mt. Hood in Oregon, has said its closing date will likely be Aug. 13.