Genesis is making a huge investment in electric vehicles and has ambitious plans of harboring an all-electric lineup by 2030.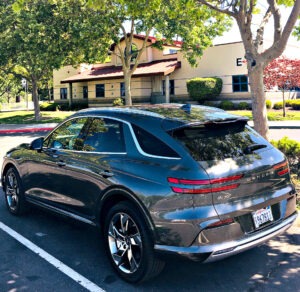 For now, Hyundai's luxury brand is producing three electrified models – the GV60, G80 and the GV70. Note that the South Korean automaker also offers all three vehicles in traditional gas-power mode. This review will focus solely on the GV70 EV.
Although the Genesis name doesn't have the reputation of the class leaders, there's lots to admire about the 2023 Electrified Genesis GV70. It possesses a high-quality interior, terrific performance, and a long list of premium features like leather upholstery, 20-inch wheels, panoramic sunroof, a wireless smartphone charging pad, and more.
Even though the GV70 is classified as a compact SUV, it could easily be mistaken for a midsize. It has a roomy interior and the cargo area is great for a small SUV. It's exterior closely resembles the gas-powered GV70's – sweeping body lines, raked roofline, quad headlamps – but also is unique with its solid grille and integrated electric charging port.
The estimated electric range of 236 miles falls short of numerous rivals, especially the Cadillac Lyriq (308 miles) and Tesla Model X (348). Charging the GV70's 77.4-kWh battery pack with a 240-kW charger gives the driver between 10 percent to 80 percent capacity in an estimated 18 minutes.
The GV70 EV gets its superb acceleration thanks to two electric motors that generate a combined 483 horsepower and 516 pound-feet of torque. It's plenty fast, going 0-60 mph in 3.8 seconds. It has standard all-wheel drive and gets 83-98 mpge. Towing is 3,500 pounds, making it much less than some of the class leaders.
The ride is as good as the performance – smooth, comfortable and quiet. We enjoyed how the electric GV70 has good lean around turns and can take on challenging winding roads, while also having no problem squeezing into tight parking places. Also noteworthy is how the regenerative braking slows one down almost immediately when making sharp turns or approaching stoplights.
Standard driver safety features include forward collision warning, land-keeping assist with lane departure warning, pedestrian detection, safe exit assist, blind spot monitoring, rear cross traffic alert, rear parking sensors, driver drowsiness monitoring, and automated emergency braking.
AT A GLANCE – 2023 ELECTRIC GENESIS GV70
Performance: two electric motors, combined 483 horsepower
Mileage estimate: 83-98 mpge
Price estimate: $65,700 to $73,800
Warranty: 5 years/60,00 miles; Drivetrain: 10 years/100,000 miles; Roadside assistance: 5 years/unlimited; Corrosion: 7 years/unlimited; battery: 10 years/100,000 miles
The electrified GV70 shares its interior with its gasoline-powered counterpart. The interior is beautifully crafted and has quality materials and lots of techy features, It has an infotainment control knob and a wide 14.5-inch touchscreen, along with four USB outlets, wireless phone charger and a 110-volt household-style outlet.
Also standard are Apple CarPlay and Android Auto smartphone integration, but they don't support wireless connectivity for these systems like many new vehicles do. The touchscreen rests atop the dash and can be confusing to master at times. It is controlled by a knob that is much easier to use than the dial mounted on the console.
There's plenty of leg and head room for front seat occupants. The rear seats are not as roomy, but still more spacious than most compact SUVs. The cargo area is generous at 28.9 cubic feet and expands to 56.5 cubes with the second row folded down.
The 2023 Electric Genesis GV70 is an appealing small luxury SUV. It has a well-designed cabin, fantastic performance and provides a comfortable ride.
Weidel on Wheels is featured regularly on www.tahoeskiworld.com. Auto writer Jeffrey Weidel can be reached at [email protected]. Follow him on Twitter at @jeffweidel.