Located in the heart of Summit County in Colorado, the Town of Frisco is known as The Main Street of the Rockies.
Ideally positioned within 30 minutes of six renowned ski resorts, and bordered on three sides by public land, Frisco is the ideal base camp for a variety of winter activities.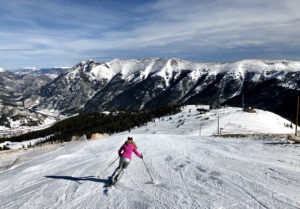 Vail Mountain is 30 minutes away and there are five other Colorado ski resorts that are even closer to Frisco – Copper Mountain, Loveland Pass, Breckenridge, Arapahoe Basin and Keystone.
Frisco also boasts its own Nordic Ski Center, beginner ski and ride hill, lift-assisted tubing hill, as well as multiple trailheads leading to backcountry – all just steps from Main Street.
Below are some suggest activities at or near Frisco.
Moonlight Dine & Ski: Experience the magic of Copper Mountain after dark with Moonlight Dine & Ski, offered monthly throughout the winter season.
The evening starts with a ride up the new American Eagle combination chairlift, where participants will be greeted by alpenglow views and a gourmet meal. Exclusive to dining guests, three of four Moonlight Dine & Ski events begin with one hour of private skiing, riding off of the Excelerator chairlift.
Once participants are ready to kick off their boots, they can head inside to the Solitude Station at mid-mountain and be greeted by live acoustic music, drinks, dinner and dessert. After the meal, take back to the snow and enjoy a final corduroy lap down to Center Village under the light of the moon.
For more details visit here.
Frisco Nordic Center: If you can walk, you can snowshoe. With rentals and guided tours available, and several trail options ranging in distance and difficulty, it's a great way to enjoy Summit County's scenery at your own pace and take in the expansive quiet of a walk in the woods.
Frisco Adventure Park: There are with 1,200-foot lanes, and surface lift service up the hill. Sledding and tubing in Frisco are an extremely fun and popular activity.
Dinner sleigh ride: Begin with a scenic sleigh ride amidst snow-capped mountain views. The trip is enhanced with hot chocolate and Peppermint Schnapps, followed by a three-course meal and great musical entertainment at the 2 Below Zero lodge, which is nestled in the woods on the Frisco Peninsula.
Year-round Fly fishing: Guided fly fishing trips are available through a variety of local companies. The waters include the Blue, Colorado, Arkansas and Eagle Rivers. 
Ice fishing is another great option. Early most winter mornings one can find the brave and determined ice fisherman on one of the "arms" of Lake Dillon: The Snake River arm in Summit Cove, the Blue River arm at Farmer's Corner, or just off-shore of the outdoor amphitheater in Dillon.
Venture Main Street: The whole family will love Foote's Rest Sweet Shoppe, serving decadent fudge and candy, and getting lost in the stacks of The Next Page Books and Nosh while giving the resident dogs – Flash, Dickens and Scout, and some obligatory pets and scratches.
This is the last remaining independent bookstore in Summit County, and the staff offers insightful book recommendations, while the adjacent cafe serves hummus plates, wine and excellent hot chocolate.
The Sunny Side Up Studio: A new creative space on Main Street offering art workshops, drop-in classes and more for all ages. The studio also carries one-of-a-kind art and products created by owner Ashlie Weisel.