Once again on Friday morning, severe weather conditions in the Lake Tahoe region caused every Tahoe ski resort to announce they are closed for the day.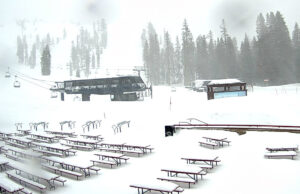 In an unprecedented move, five Tahoe ski resorts announced Thursday afternoon (March 9) they would be closing the next day due to yet another Tahoe weather advisory. The three Vail Resorts in Tahoe – Northstar, Heavenly, Kirkwood – announced the Friday closing news one day before and two other resorts (Sierra-at-Tahoe, Mt. Rose) joined them.
Every other area ski resort made that closing decision Friday morning after assessing conditions. This is at least the third day that all Tahoe ski resorts have been shut down in the 2022-23 season.
With hazardous weather expected through the weekend, will any Tahoe ski resorts be reopening in the next few days?  Echoing the opinion of all Tahoe ski resorts, Heavenly issued a statement saying its team will be assessing conditions day-to-day and expects recovery from the storm to take a bit of time.
"Tomorrow could be the same thing. The weekend is up in the air," Palisades Tahoe spokesperson Patrick Lacey said Friday morning. "We have flooding at our base level and it was raining all night below 8,500 feet. It's not the greatest conditions out there right now. The winds on our ridgeline have hit 139 mph. At this point, we're not too sure if we will be open this weekend."
Due to higher overnight temperatures, as opposed to the sub-freezing ones over the past month or so, the latest storm resulted in rain at the lower levels of most Tahoe ski resorts. It's having a definite impact on existing snow.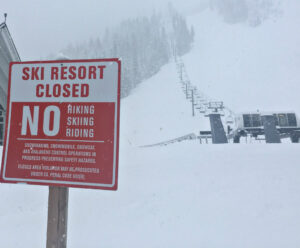 "The rain is making our snow very heavy, making Sierra cement," Lacey said. "It's never good when it snows first and then turns to rain. It's creating high avalanche danger and flooding. So, Palisades Tahoe is on avalanche alert and flood watch at both the Palisades and Alpine sides of the resort."
FRIDAY SNOW TOTALS: It's probably no coincidence that Mt. Rose ski resort received the most snow among Tahoe ski resorts in the past 24 hours, reporting 20 inches at its base area and 24 (2 feet) at its summit by Friday morning. The Nevada ski resort near North Lake Tahoe has the highest base elevation among Tahoe ski resorts, residing at 8,260 feet.
Kirkwood was reporting 17 inches Friday morning and Northstar had 16 inches. Also reaching double figures were Sugar Bowl and Tahoe Donner (12 inches), while Sierra-at-Tahoe and Heavenly both had 10 inches.
SEE TAHOE SNOW REPORT BELOW
WEATHER FORECAST: According to OpenSnow.com, rain and snow with fluctuating snow levels are expected at Tahoe ski resorts through Monday. Another wet storm could develop Tuesday and linger into Wednesday. There's a possible break in the storms from Thursday (March 16) into next Friday, but more storms could emerge through the end of the month.
On Friday, the winter storm pounding the Lake Tahoe Basin with rain and snow closed schools, caused travel disruptions and flooding that brought down a couple of structures due to heavy snow load.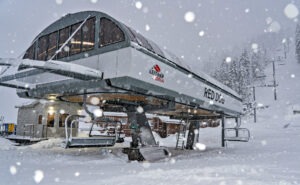 "Both the city of South Lake Tahoe and El Dorado County have declared a State of Emergency and we want to do our part and support our community during this emergency situation," Heavenly ski resort said in a social media post. "We expect major challenges as a result of inbound precipitation, both at our ski resort and across the Tahoe region. So, we are making this decision (to close Friday) proactively out of an abundance of caution for our employees and guests."
Due to strong winds, heavy snow at high elevations and soaking rain, the National Weather Service has issued a winter storm warning and flood advisory in effect through 11 a.m. Sunday. Wind gusts ranging from 65-75 mph are expected and they could exceed 100 mph on Sierra ridges. The strong winds have led to vehicle restrictions over 9 feet tall on Highway 395 in Washoe Valley.
Near the noon hour Friday, chain controls were in effect on Interstate 80 and Highway 50. Due to snowy conditions, Highway 88 is closed from 2 miles east of Kirkwood to Picketts Junction.
SEASON SNOW TOTALS: The totals at Tahoe ski resorts continue to rise to almost ridiculously high levels, considering it's still early March.
There are currently three Tahoe ski resorts that have 600 inches or more of snow at their summit. And there are six resorts that have exceeded 500 inches.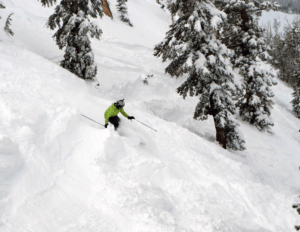 Sugar Bowl has the most snow among Tahoe ski resorts with a whopping 632 inches. Not far behind is Boreal with 630 and Palisades Tahoe with 614. With more snow Friday, Kirkwood (599) will join the 600-inch club.
Among the resorts with 500-plus inches are Soda Springs (596), Sierra-at-Tahoe (584), Sugar Bowl (562), Mt. Rose (547), Homewood (533). Heavenly (499) will pass the 500-inch mark Friday.
TAHOE SNOW REPORT (March 10)
Mt. Rose: 24 inches
Kirkwood: 17 inches
Northstar: 16 inches
Tahoe Donner: 12 inches
Sugar Bowl: 12 inches
Sierra-at-Tahoe: 10 inches
Heavenly: 10 inches
Palisades Tahoe: 7 inches
Diamond Peak: 4 inches
Boreal: 4 inches
Soda Springs: 4 inches
Homewood: NA
Granlibakken: NA