Mother Nature delivered more snow Sunday morning to Tahoe ski resorts than expected.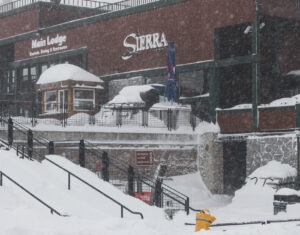 Maybe there will be a "Miracle March" after all! One things for sure, winter has returned. Welcome back.
Weather forecasts were predicting 3-6 inches from the snowfall that began Saturday afternoon and continued into Sunday (March 1). However, 11 of Tahoe's 13 ski resorts exceeded the 6-inch mark and the other two got exactly half a foot.
Both Mt. Rose and Sierra-at-Tahoe had the most snow among Tahoe ski resorts, getting 12 inches of fresh powder. As of 1:30 pm Sunday, Mt. Rose had received an additional 5 inches of snow, bringing its total to 17 inches.
Located in Nevada close to North Lake Tahoe, Mt. Rose is situated at 8,200 feet, the highest base area among the Tahoe ski resorts. The resort received 10 inches at its base area this morning and may reopen the Chutes, its coveted area that's a favorite of expert skiers and riders.
And more snow was arriving. The snow continued to drop Sunday afternoon at most Tahoe ski resorts. Temperatures are low and winds are high, making for some difficult ski and snowboarding conditions. But it's a POWDER DAY!
(SEE TAHOE SNOW REPORT BELOW FOR TOTALS)
Sugar Bowl received 11 inches overnight and Diamond Peak got 9 inches. Five Tahoe ski resorts were reporting 8 inches early Sunday morning. Sugar Bowl opened its 13-Foot Mini Pipe and has 88 available trails,  accessible from 11 lifts.
"This isn't that Sierra cement, either – this is that blow-up-and-over your windshield when you pull into the parking lot kind of snow," said the message on the Sugar Bowl website. "I can't think of a better way to celebrate than with passholder early ups."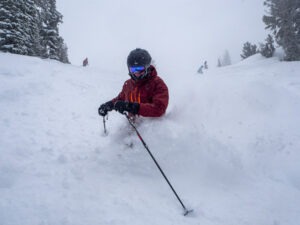 The 12 inches of new snow at Sierra pushed the South Lake Tahoe ski resort past Squaw Valley for the most snow in the 2019-20 season. Sierra now has 216 inches and Squaw Valley has 215. Seven Tahoe ski resorts are now reporting 200 or more inches this season.
More good news could be on the way. According to Bryan Allegretto, OpenSnow California forecaster, another sizable storm could deliver more significant snow to Tahoe ski resorts, starting next weekend (March 7-8).
TAHOE SNOW REPORT (today's totals; season totals)
Sierra-at-Tahoe: 12-216 inches
Squaw Valley: 8-215 inches
Alpine Meadows: 8-206 inches
Sugar Bowl: 11-205 inches
Northstar California: 7-204 inches
Boreal Mountain: 8-204 inches
Soda Springs: 8-200 inches
Kirkwood Mountain: 6-199 inches
Mt. Rose: 12-190 inches
Heavenly Mountain: 6-189 inches
Homewood Mountain: 8-174 inches
Diamond Peak: 10-123 inches
Tahoe Donner: 9-120 inches