Tahoe ski resorts are once again painted white, thanks to the first snow storm of the season.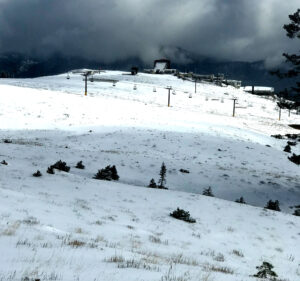 Squaw Valley Alpine Meadows was overjoyed with the amount of snow it received by Sunday morning (Nov. 8). Squaw-Alpine was reporting 9 inches of snow overnight at its upper mountain and 5-8 inches total at the base.
The snow continued to accumulate Sunday in the Tahoe region.
In addition to the snow from Mother Nature, the cold temperatures also allowed for productive snowmaking, with crews starting to make snow on Squaw Valley's upper mountain for the first time this season.
No Tahoe ski resort is offering skiing and snowboarding thus far, a rarity for the region. Typically, one or more ski resorts open in late October or the first week of November. The coronavirus epidemic has played a role in the thinking of early-season openings. However, many Tahoe ski resorts are hoping to open by the Thanksgiving weekend.
Typical of a first snow, driving in the region can be a dangerous undertaking. Law enforcement said there were a number of vehicle spinouts despite chain controls on Interstate 80, Highway 50, Highway 89, and Highway 267.
Squaw-Alpine plans to kick off the 2020-21 ski season Wednesday, Nov. 25, weather and conditions permitting. Passholders will have the best and most flexible access to the resort, with no reservations currently required to access the mountain.
The resort, located off Highway 89 in North Lake Tahoe, will manage general visitation by temporarily eliminating the sale of "walk-up" tickets at the window, tightly controlling the sale of advance purchase tickets. Skiers and riders who book a lesson, rentals or lodging directly through the Village at Squaw Valley will have priority access to tickets.
Like all Tahoe resorts this ski season, Squaw-Alpine Meadows says it's committed to providing space for physical distancing, adhering to safety policies and remaining flexible in the face of the inevitable changes due to the coronavirus throughout the season.
Skiers and riders must educate themselves in advance about COVID-19 policies and follow resort communications as they are updated. Guests should book in advance of their visit and plan to visit midweek for the best possible experience.
HOMEWOOD: Located on Tahoe's west shore, the family-friendly ski resort received 9 inches at its summit and 5 inches at the base overnight. The National Weather Service forecast calls for more snow throughout today, and consistently cold temperatures this week.
Homewood is planning for a Dec. 11 opening, weather and conditions permitting. The resort is no longer selling season passes, but advance purchase lift tickets are on sale.