New Year's Eve is long gone, but fireworks aren't. Palisades Tahoe ski resort will be staging a New Year's Eve fireworks Saturday evening as part of its President's Day Weekend festivities.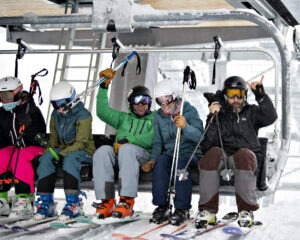 Due to stormy weather this past New Year's Eve, Palisades Tahoe had to cancel its typical fireworks presentation. It's now rescheduled for Saturday (Feb. 19), highlighting an evening of fun at the Lake Tahoe ski resort.
Prior to the fireworks show at 7 pm, Mark Sexton will be playing at the Plaza Bar.
Other fun events to celebrate President's Day Weekend include:
Free live music at the Alpine Bar and Plaza Bar from 2-5 pm Friday through Sunday
Sunset Happy Hour at High Camp from 4-6 pm both Saturday and Sunday
$21 per person, includes Tram ticket and voucher for one beer or wine. Appetizers and a full bar are available throughout the event
Mountainfilm On Tour 7 pm at the Olympic Village Events Center on Saturday
Mountainfilm on Tour brings a selection of culturally, adventure-packed documentary films that many consider inspiring, taken from the Mountainfilm festival in Telluride, CO.
Mountainfilm on Tour takes some of the best films from the festival on the road to share the sentiment of changing the world through visual storytelling with the rest of America. The showcased films explore themes connected to Mountainfilm's mission of using the power of film, art and ideas to inspire audiences to create a better world.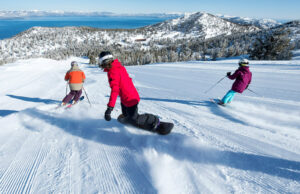 BUSY HOLIDAY SKI WEEKEND: Thanks to a snowpack that's hit its highest level in nearly three decades, Tahoe's iconic ski resorts are operating with almost all their lifts and runs available for skiing and snowboarding. On Wednesday, the Central Sierra snowpack was measured at 190% of normal for this time of year.
Parking has been a problem during busy weekends this ski season and is expected to fill up early. Skiers and riders are encouraged people to arrive as early as possible in the morning and to carpool, if possible.
"We're about to hit 400 inches of snow and that's usually our season total," said Patrick Lacey, a spokesperson for Palisades Tahoe. "If you don't get here early, probably don't come. That's our biggest suggestion right now."
WEEKEND SNOW IN TAHOE: Expect snow during the holiday weekend in Tahoe. However, it won't be a big dump. The snow totals are only expected to be 2-3 inches during the holiday period.
A modest snowstorm is forecast for Thursday into Friday, while a second storm should arrive Saturday into Sunday. The National Weather Service is forecasting travel impacts in the Sierra starting Thursday due to the series of storms.