Due to damage caused by the Caldor Fire, Sierra-at-Tahoe ski resort has delayed the start of ski season until early 2022.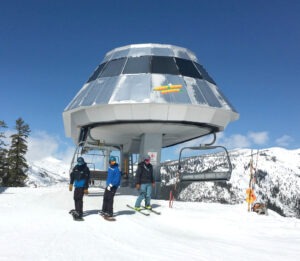 The Caldor Fire burned along Highway 50 into the Lake Tahoe Basin during late August and early September. It damaged key infrastructure and created tree hazards at Sierra-at-Tahoe, according to the resort's website.
"While our team has been working tirelessly and making progress each day, there is still a substantial amount of work ahead of us," resort officials wrote in a Monday email newsletter. "As a result, we will have a delayed start to the season and have set our sights on opening in early 2022."
Flames destroyed a maintenance shop, damaged chairlift infrastructure and killed countless trees at the ski resort that operates on a special use permit in the El Dorado National Forest.
Earlier this fall, resort officials said the trails and area accessed by its popular West Bowl Express will be inaccessible this winter.
The resort also said the Grandview Express, one of its two main lifts, had its haul rope damaged during the fire, with a replacement cable still being produced in Switzerland.
"Many factors will impact the timing of the mountain reopening, including Mother Nature, the supply chain for the equipment we need, and any unforeseen obstacles that may be thrown our way," the email stated.
The Tahoe ski season received a huge early-season boost, thanks to 3-plus feet of snow in late October. That allowed both Palisades Tahoe (formerly Squaw Valley Alpine Meadows) and Boreal Mountain to open Oct. 29.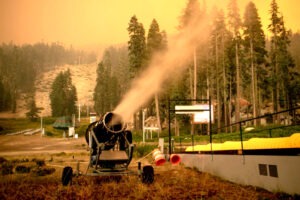 Located off Highway 50, approximately 12 miles from South Lake Tahoe and contained within the Eldorado National Forest, Sierra-at-Tahoe opened in 1947 and has produced several Olympic gold medalists, including snowboarder Jamie Anderson. The resort was previously called Sierra Ski Ranch until it was sold in 1993.
"There is a tremendous amount of work to be done in order to offer skiers and riders the quality ski experience they have come to expect from Sierra," resort officials said. "Despite the challenges ahead, the recent snow is a reminder of what we are working toward, and we will not stop until we are all making laps on Grandview."
SEASON PASS UPDATE: The upcoming season pass will also be valid to skiers and riders for the entire 2022-23 winter season.
The program protects the 2021-22 season pass and the next winter season – as soon as Sierra-at-Tahoe is able to open parts or all of the mountain.
The resort says it will honor a refund for all season pass products, no questions asked.
Sierra-at-Tahoe urges pass holders to check their email for options related to the 2021/22 season pass.