Following a season where the ski resort was closed due to fire damage, Sierra-at-Tahoe will be open for the upcoming 2022-23 season.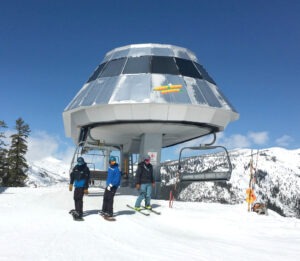 Located off Highway 50 near South Lake Tahoe, Sierra-at-Tahoe officials announced earlier this week they are on track to fully open this winter.
Roughly a year ago, Sierra-at-Tahoe was sadly glowing orange as the Caldor Fire burned tens of thousands of acres. The fire raged at arguably the resort's best skiing and snowboarding area – the West Bowl. The immense damage from the fire caused the venerable resort to remain closed all last season, with the exception of one weekend (April 9-10) of limited terrain.
The fire affected 1,600 of the resort's 2,000 acres, damaged lifts towers, haul ropes, terrain park features, four new snowcats, and a maintenance building, which housed many of our crews' tools and personal belongings, some that had been passed down through generations.
Sierra officials have indicated more than 14,000 fire-damaged trees were abated, amounting to an estimated five million board feet of timber removed from the resort's slopes.
"With our latest updates of trees dropping and the daily changing landscape, some may still be wondering, 'Is Sierra really going to open this winter?' Our answer is yes," a statement on Sierra's website said. "We are on track for a full reopening of our 46-trail network this winter season.
With restoration goals for West Bowl completed, mitigation efforts throughout the mountain continue. Remediation of trees in West Bowl, the area hardest hit by the Caldor Fire, is complete and officials expect tree falling operations to move swiftly across the rest of the resort that was largely spared from the flames.
The West Bowl being completed means the area has been assessed, hazardous trees have been cut, decked, and are being hauled to Tahoe Forest Products sawmill near Carson City with few scattered log truck loads remaining.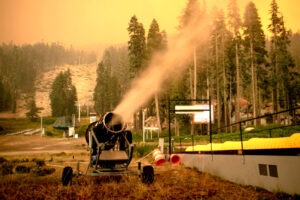 Sadly, Sierra-at-Tahoe's 75th anniversary was last season. The lone weekend where modest terrain was open was partly due to honoring its proud past.
"To pay homage to our history while setting our sights on the future, we are opening the resort for one weekend only to reflect and reconnect together with your fellow Sierra family members," a Sierra press release stated.
SIERRA FACED UNPRECEDENTED TASK: There was no precedence for what Sierra-at-Tahoe was trying to overcome.
In November 2021, Scot Rogers, district ranger with the Eldorado National Forest, told the San Francisco Chronicle that wildfires have grazed the edges of ski areas before. However, no ski resort in the U.S. or perhaps the world has ever suffered this much damage.
"There's really no playbook to follow, so we're making it up as we go," Sierra-at-Tahoe GM John Rice told the Chronicle. "This isn't the last fire that's going to hit a ski area, so the whole world is watching us."
That left Sierra forging ahead with no blueprint to follow. Assessments determined the resort had major damage to ski infrastructure and landscape. This eventually governed which trails could return and the possibility that new ones could be created.
"Underneath this burnt landscape is a resort waiting to come out of the ground and be glorious again," a Sierra-at-Tahoe Facebook post stated in January, quoting Rice. "It could be a whole bigger, better thing. When you start looking at it that way, it gives you hope."