Following multiple frustrating days of rain mixed with snow, the white stuff finally arrived in abundance throughout the day on New Year's Eve and continued into the morning.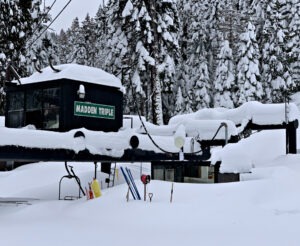 There were 11 Tahoe ski resorts reporting 30 inches or more Sunday morning (Jan. 1). Sierra-at-Tahoe had the most snow in the Tahoe region, getting 42 inches (3½ feet). Boreal Mountain and Soda Springs weren't far behind, each getting 40 inches.
"Our storm has cooked up a gorgeous start to the New Year today with nearly 3 feet of new snow in the past 24 hours and 69 inches over the past week, bringing our total to 232 inches of snow for the season," a Palisades Tahoe email stated.
CHECK OUT TAHOE SNOW REPORT BELOW
Despite the massive snow totals, the news wasn't all good New Year's Day. Although the sun finally popped through for a significant amount of time for the first time overall during the Christmas holidays, Tahoe ski resorts still were experiencing high winds that made skiing and riding difficult at times.
Like all area ski resorts, Sugar Bowl had issues facing its crews in trying to get its mountain ready for skiers and riders. No one was riding down Sugar Bowl's slopes or many other area slopes at the usual morning opening time.
"We are being challenged in every direction with this storm, including issues with employees accessing the resort, slow movement (even with snowmobiles) around the resort, standing water in some base areas, flooding in several facilities, power/connectivity, plus 34 inches of snow to shovel," a message on the Sugar Bowl website said.
The heavy snow and high winds prompted several ski resorts to shut down early on Saturday, including Sierra-at-Tahoe, Northstar and Heavenly, which reported multiple downed power lines on the mountain due to the powerful winds and heavy snow. Road closures on Highway 50 and Interstate 80 halted traveling at times.
WEATHER FORECAST: Sunday offered a much-needed break between storms. It was mostly sunny skies by afternoon along with lighter northeast winds. High temperatures were in the 30s at many base areas and 20s at the summits.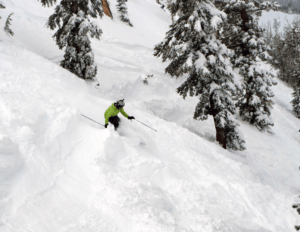 The next storm is expected to move in Monday afternoon into Monday night. It will be a colder and weaker system. Ridgetop winds could be gusting up to 40-60 mph by afternoon. By Tuesday morning, we could see new snowfall amounts of 2-5 inches at the base and 3-7 inches on the upper mountains.
Another strong storm could bring more snow Wednesday into Thursday (Jan. 5). There's a possibility of 2-3 feet of snow dropping with this storm.
Moving forward, storms could continue into the weekend of Jan. 7-8, and possibly into the following week. But some forecast models are predicting a drier pattern by the week of Jan. 9-15.
TAHOE SNOW REPORT (January 1)
Sierra-at-Tahoe: 42 inches
Boreal: 40 inches
Soda Springs: 40 inches
Tahoe Donner: 39 inches
Homewood: 38 inches
Northstar: 36 inches
Palisades Tahoe: 35 inches
Kirkwood: 34 inches
Sugar Bowl: 34 inches
Diamond Peak: 34 inches
Granlibakken: 30 inches
Mt. Rose: 23 inches
Heavenly: 21 inches