Should one be impressed by the new redesigned Impreza? The folks at Subaru certainly hope the complete makeover is a success and provides a much-needed boon to sales.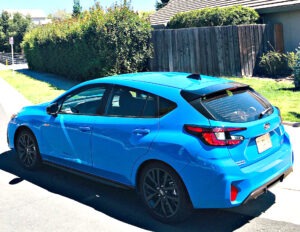 Sales of the Subaru Impreza hit a high of 86,043 in 2017. However, sales have dropped the past five years, hitting a near all-time low of 30,846 in 2022.
Released prematurely, the redesigned sixth generation 2024 Subaru Impreza does away with the sedan option in favor of hatchbacks only. There is also no available manual transmission; the new version is mated to a continuously variable automatic transmission (CVT).
Changes include a new 11.6-inch center touchscreen that is standard on several models. It has also added the RS trim level and its more powerful engine. Subaru says the latest version of the Impreza provides a smoother, quieter ride and improved cabin. The changes also include standard advanced driver safety aids.
Among hatchbacks, the Impreza is regarded as roomy and practical. Like all Subaru vehicles, it comes standard with all-wheel drive and is offered at a reasonable price (starting at $23,100). However, the knock on the Impreza and most of the Japanese automaker's inventory, is lackluster performance and uninspiring driving experience.
Improved performance was a priority this year, but doesn't show up in the base engine, a 2.0-liter, four-cylinder that delivers 152 horsepower and 145 pound-feet of torque. It goes a sluggish 0-60 mph in 9.3 seconds.
If buying a new Impreza, we would recommend going with the peppier RS model, one of three available Impreza trim models. The RS engine is a 2.5-liter, four-cylinder that generates 182 horsepower and 178 pound-feet of torque. It's nearly a second faster than the base model, traveling 0-60 mph in 8.4 seconds. Fuel economy is nearly identical in the two engines – 27-34 mpg versus 26-33 mpg for the RS.
We found the Impreza a more fun drive than expected. It offers responsive steering and does better than average when navigating demanding curving roads. Yet driving an Impreza can't be categorized as athletic or sporty,
Standard driver-assistance safety features include forward collision warning, forward automatic emergency braking, lane-departure warning, lane-keep assist, rear-seat alert, and automatic high-beam headlights.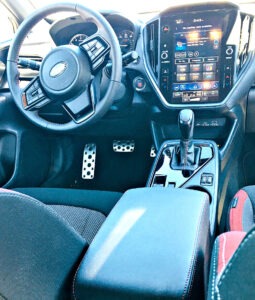 AT A GLANCE – 2024 SUBARU IMPREZA
Performance: a 2.0-liter, four-cylinder, 152 horsepower; 2.5-liter, four-cylinder 182 horsepower
Mileage estimate: 27-34 mpg; 26-33 mpg
Price estimate: $23,100 to $27,900\
Warranty: 3 years/36,000 miles; drivetrain: 5 years/60,000 miles; roadside assistance: 3 years/36,000; corrosion: 5 years/unlimited
Although overall it's efficient, there's nothing fancy regarding the Impreza interior. While fairly modern, it also utilizes lots of hard plastics that cheapen the product. We mentioned the availability of the larger touchscreen, yet the standard one is a smallish 7-inch display that handles everything from navigation to climate control.
Apple CarPlay and Android Auto with wireless connectivity are both standard. Also standard is adaptive cruise control, which is a standout system that is rated better than its competitors typically offer.
The Impreza offers roomy and comfortable seating in both the front and back seats. Subaru claims it's the roomiest interior in the hatchback class. The cargo area measures 20.8 cubic feet and that increases to 55.3 cubes with the seats down.
In the past few years, the popularity of small SUVs has been a challenging thing to overcome for all hatchbacks. The 2024 Subaru Impreza is hoping its redesign provides the impetus for improved sales.
Weidel on Wheels is featured regularly on www.tahoeskiworld.com. Auto writer Jeffrey Weidel can be reached at [email protected]. Follow him on Twitter at @jeffweidel.