The dangers of skiing took on a new meaning when two skiers decided to descend down famed Half Dome at Yosemite National Park.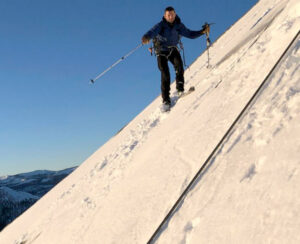 Last Sunday (Feb. 21), Jason Torlano and Zach Milligan became the first skiers to make the treacherous journey down Half Dome. The pair are reportedly the first individuals to attempt the entire 4,800-foot (1,463-meter) descent from peak to valley.
Milligan, 40, and Torlano, 45, completed the descent in five hours, carefully navigating their way down Half Dome's crusty snow. The pair skied some sections and also used ropes to rappel several sections that are bare rock and known as the "death slabs." There is little room for error heading down the precipitous shoulder of Half Dome.
The danger factor was always in play. One fatal mistake could have resulted in death for either Torlano or Milligan. JT Holmes, a professional skier and ski base jumper who is well-known in the Lake Tahoe region, understands the danger the two skiers undertook at Yosemite.
"If you fall to your left or right, you're definitely dead," Holmes told Associated Press. "If you fall down the middle, you have a small chance of not falling to your death. But it's a maybe."
Snowboarder Jim Zellers is believed to be the first to descend the 800-foot upper section on the shoulder of the dome in 2000. But no one is known to have attempted the entire 4,800-foot descent from peak to valley.
A granite dome at the eastern end of Yosemite, Half Dome is named for its distinct shape and is one of the most sought after climbs for hikers and rock climbers. It rises above Yosemite Valley at an elevation of 8,844 feet above sea level. One side is a sheer face, while the other three sides are smooth and round, making it appear like a dome cut in half.
The skiing adventure began with Milligan and Torlano climbing approximately 4,000 feet to the top of Half Dome in subfreezing temperatures. Once at the top, the pair began navigating down the steep Yosemite monolith to the valley floor.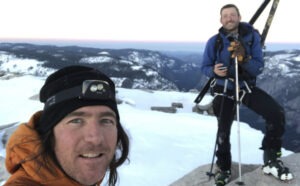 To better assess the possibility of skiing Half Dome this year, Torlano rented a friend's small plane Feb. 19 to study the snow conditions and possible route. He later called Milligan, a rock-climbing friend, to film his journey.
But Milligan eventually had more ambitious plans. Besides some filming, he decided to make his own descent down Half Dome, carefully side slipping on skis.
Milligan's trip down Half Dome included an extremely anxious moment when he skied over part of one of the cables and lost control. Yet he was able to use an ice ax to stop his slide and was able to right himself.
"I was just trying to stay in control and stay alive," Milligan said. "You're on that spine and you don't have a lot of room for error."