Kye Moffat, reportedly a 25-year-old skier from Berkeley, died Saturday (April 23) at Palisades Tahoe.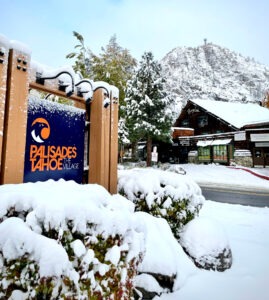 Andrew Trygg, a Nevada County Sherriff's Office Public Information Officer, identified the deceased skier as Moffat. However, according to ABC7 TV in San Francisco, Moffat's brother said he was from both Berkeley and Truckee.
Palisades Tahoe issued information Tuesday, saying just before 4:30 p.m. on Saturday resort Ski Patrol responded to a report of an injured skier. Following up on the report, they found the skier off the closed Sunnyside trail.
Reno TV station KRNV reported that Moffat was found in a pond on the resort, and that he was skiing with a group of five other people, though none were witness to the accident.
Ski Patrol personnel responded and found an unresponsive man and administered life-saving efforts. Moffat was rushed by ambulance to Tahoe Forest Hospital where he was pronounced dead, according to officials.
"Our deepest sympathies go out to family and friends of the deceased," Palisades said in a statement.
Palisades officials say that Moffat's cause of death is still under investigation. The resort said that Moffat was not wearing a helmet and appears to have suffered head trauma during a fall.
PREVIOUS DEATHS THIS SEASON: The incident marks the third death at Palisades this year.
Palisades Ski Patrol discovered a 74-year0old man from Olympic Valley unconscious at the bottom of the West Face trail off the KT-22 Express chair lift Jan. 26. The unnamed man was reportedly not wearing a helmet and collided with a tree.
Less than a month later, two teenage skiers collided on the Yellow Trail on the Alpine Meadows side of Palisades Tahoe, resulting in the death of 16-year-old Scotty Lapp of Tahoe City.
Lapp was a member of the Palisades Tahoe Big Mountain Competition Team.