In typical fashion, David Wise didn't let consecutive falls on his first two attempts get into his head as he prepared for one last drop into the halfpipe at the PyeongChang Olympics.
Some life-defining moments the past two years only strengthened his inner faith and allowed him to put his freestyle skiing in perspective. Still clinging to the dream of repeating as Olympic gold medalist in freestyle skiing, Wise delivered in a huge way.
Shaking off the previous two runs where binding malfunctions had him frustratingly popping out of his skis on aborted attempts, Wise made nary a mistake during his third trip down the humongous 660-foot halfpipe at Phoenix Snow Park.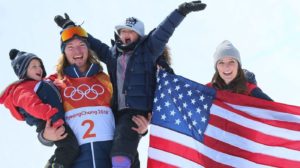 Wise was perfect and needed to be. His score of 97.20 pushed him past U.S. teammate Alex Ferreira and into first place. Ferreira (96.40) finished in second place with a silver medal and New Zealand's Nico Porteous (94.80) took the bronze medal.
A big-picture perspective helped enable the Reno native to head into his final Olympic halfpipe run Thursday with no fear of failing, whether he repeated as gold medalist or won a medal at all.
"The reality is every single run, no matter what is happening, is just another run through the halfpipe," Wise said. "So, I had to take a moment at the top. I'm a spiritual person and I believe that everything happens for a reason."
Since his gold medal victory four years ago at the Sochi Olympics, there was a stream of defining moments that at times took his focus totally off skiing.
In the span of a year, Wise's sister Christy nearly died in a boating accident that left her without a right leg. His wife, Alexandra, experienced severe postpartum depression after the birth of the couple's second child. Meanwhile, their first child was having seizures and nearly died.
If that wasn't enough, death arrived at their door. Alexandra's father died and the Wises leaned on each other again as they both lost a grandmother.
"It was a super difficult time and we were going through a lot of loss. In the same way that it served to make me stronger as an athlete, all of that adversity just served to bring us tighter as a family," Wise said. "And honestly, I have never felt more supported or in a healthier place from a nuclear standpoint than I do right now."
Health issues and death weren't the only issues facing Wise. There were problems in the halfpipe as well. He suffered three concussions and had serious injuries to his back and shoulder.
Wise failed to reach the podium last season for the first time since he was a teenager nearly a decade ago.
Compounding the personal problems, some of Wise's long-time sponsors cut him loose, one arguing that he had violated his contract just so they could get out of the deal.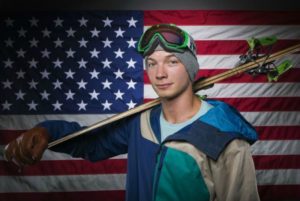 That was a blow to his finances as well as his ego. More than once, Wise heard about his fall from glory. Some speculated he wouldn't even qualify for the 2018 Olympics.
No wonder the 27-year-old Wise was able to make that final run at the Pyeongchang Olympics with such mental clarity.
The Wise cheering section in South Korea – about 20 friends and family – included his wife and two children. His older twin sisters, Jessica and Christy, and parents agonizingly waited for the late heroics that Wise has been known to deliver.
"How could you script this?" said David's father, Tom Wise. "I just thank God we've still got all of them here and then we get to come here to the peak of the mountain. It's just been a tremendous ride."
.