It's what some ski resorts often refer to as the "silly season." And a primary silly event for this time of year at Palisades Tahoe is the annual Cushing Crossing.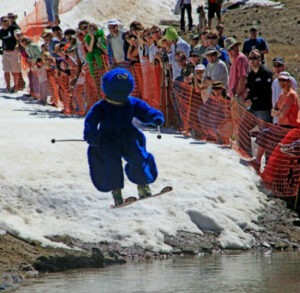 Haven't witnessed a Cushing Crossing? You should.
The Cushing Crossing is a comical pond-skimming contest that is widely regarded as the best event of the spring ski season.
If it's anything like previous events, the 31st annual Cushing Crossing at Palisades Tahoe ski resort will be fun and full of laughter and spills as participants attempt to ski or snowboard across a pond of freezing water dressed in some of the zaniest costumes one ever sees at a ski hill.

The Cushing Crossing takes place May 20 at 1 pm, weather and conditions permitting. Due to the Cushing Pond melting at a slower rate this season, the event had to be pushed back to a later date than normal.
"We're thrilled to bring back the Cushing Crossing event for its 31st year," said Kristen Costa, Events & Sponsorships Senior Manager at Palisades Tahoe. "It's always a highlight of our spring season and a great opportunity for our community to come together and celebrate the end of winter in a fun and unique way."
The Cushing Crossing, named after the resort's founder – Alex Cushing – is the original pond-skimming contest that began back in the early 1990s.
In addition to the adrenaline-pumping pond-skimming action, attendees can look forward to a panel of local celebrity judges and two of the best emcees in the business. Plus, there will be an awards ceremony immediately following the event at Cushing Pond.
Cushing Crossing category winners will receive prizes from the event sponsors, including Yeti, Smith, Phunkshun Wear, Dakine, and Darn Tough. The overall winner will receive 2023/2024 Ikon Base Pass, GoPro Hero 11, and $500 cash. After the awards ceremony, there will be live music from DJ Funksalot at the KT Base Bar.
To register as a Cushing Crossing participant, head to Wildflour at 7 am, the day of the event. The registration fee is $20, cash only. Admission to view the event is free, and everyone is encouraged to dress up in their wackiest costumes.
For more information on the Cushing Crossing, visit the Palisades Tahoe Event's Calendar.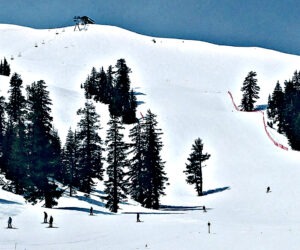 RECORD SETTING SNOWFALL: Palisades Tahoe has received a record-breaking 723 inches of snow this season.
Due to the huge snowfall totals this year, the Olympic Valley resort has extended its season to July 4, by far the longest season among Tahoe ski resorts.
The May mountain hours to ski or ride are 8 am to 2 pm. The Palisades side is open Friday through Tuesday and the Alpine side is available Wednesday to Sunday.
DISCOUNT LIFT TICKETS, LODGING: As the spring season continues for almost two more months, Palisades Tahoe is offering deals on daily lift tickets and lodging.
Visit here to view the ticket price discounts.
Click here to see the lodging discounts.