A sun-drenched day with cool temperatures was the setting Friday (Nov. 20) for the opening of ski season at both Heavenly Mountain and Northstar California.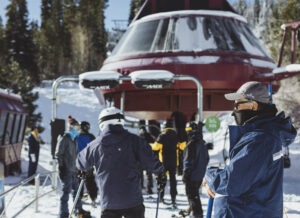 The two Vail Resorts in Lake Tahoe were the first Tahoe ski resorts to begin running their lifts for the 2020-21 ski season. The third Vail Resort in Tahoe – Kirkwood Mountain – is opening Dec. 4, weather and conditions permitting.
"With over a foot of natural snow from the past week and the hard work of our snowmaking teams, we have a solid foundation to start up the season," said Susan Whitman, communications manager for the Tahoe ski resosts.
With a modest amount of available terrain, lots of first-day enthusiasm, and people arriving early, in some ways the opener was business as usual for skiers and snowboarders. Yet due to the coronavirus pandemic, there were many new safety policies in place.
CORONAVIRUS PRECAUTIONS: Everyone was required to wear a face covering, there were no walk-up lift ticket sales (reservations only), there's no indoor dining or drinking; grab-and-go food options are available for outdoor dining, and lift lines and loading on chairs is all new.
All Tahoe ski resorts and those throughout the U.S. have adopted a winter operating plan focused on comprehensive safety protocols.
"As always, the safety of our guests, employees, and communities is our top priority, and we've designed our winter operating plan with COVID-19 in mind," Whitman said.
WHAT TO KNOW
Face Coverings:Skiers and riders are required to wear a face covering in all aspects of the operation, including in line, while riding lifts and gondolas and in all facilities.
Reservations: Reservations are required so that the resort can manage access and allow for physical distance.

Safety precaution signs like this one have been posted at Northstar and Heavenly as a reminder to skiers and riders.

Sick? Stay Home: Anyone who is sick or experiencing symptoms of COVID-19 must stay home. Please cancel any reservation to give other skiers and riders a chance to ski and ride.
Re-Imagined Mountain Experience: New operating proceduresare in place across the resort, including lift and gondola loading, in Ski School and lodging locations.
Cashless Transactions: For the best experience, book and pay online in advance.
Follow State Guidelines: Know, follow and adhere to California's COVID-19 measures https://covid19.ca.gov/
AVAILABLE TERRAIN: On Opening Day at Heavenly, skiers and riders had access to Patsy's, Maggie's and Ridge Run trails. The resort kicked off the season on a historic note, celebrating its 65th anniversary and opening the California-side of the resort for skiing and riding first for the first time in over a decade.
Northstar welcomed skiers and riders back with wide-open runs, including Lumber Jack, Skid, Upper and Lower Main Street, Lower Lion's Way, Easy Street, and Carpet Bowl trails.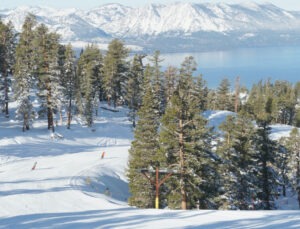 This season guests can enjoy a revamped version of an existing Kids Adventure Zone, located near Powder Bowl. The Powder Bowl location will have wood carved animals, such as bears and pine martens located in the trees throughout the zone, with improvements also being made to the corridor.
MAKING RESERVATIONS: Opening Day and week-of reservations for Heavenly and Northstar began Wednesday (Nov. 18). Pass holders can make early-season reservations from Nov. 20-29 for either resort.
Priority Reservation Days for the core season (Dec. 8 through April 4) for Heavenly, Northstar and Kirkwood are also available for pass holders. For more information and to make reservations, guests should visit EpicPass.com.
TAHOE SKI RESORT OPENINGS
Heavenly: November 20
Northstar: November 20
Boreal: November 23
Squaw Valley: November 25
Alpine Meadows: November 25
Sugar Bowl: November 27
Soda Springs: November 27
Diamond Peak: December 10
Homewood: December 11
Tahoe Donner: December 11
Granlibakken: December 18
Mt. Rose: TBA
Sierra-at-Tahoe: TBA