If you haven't visited a Tahoe ski resort this season, there are new guidelines to follow due to the Covid-19 virus.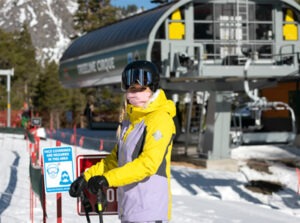 Squaw Valley Alpine Meadows has some safety regulations (listed below) that will hopefully keep skiers and snowboarders safe during the Christmas holidays and beyond.
CHECK OUT TAHOE SNOW REPORT BELOW
This season Tahoe ski resorts are facing unique challenges that can only be overcome with everyone working together to understand and adhere to state and county guidelines. Ski resorts naturally want to stay open and provide a quality experience, so it's imperative for skiers and riders to get familiar with Covid-19 policies.
Resorts are urging guests that if they aren't ready to follow the guidelines, please stay home.
Masks a Must: While at a Tahoe ski resort, skiers and riders must wear a mask when they are inside, in the Squaw Village, in lift lines, on the chairlift, in any common indoor area, and pretty much every place except while skiing or riding. Face covering must cover both the nose and mouth.
Fortunately, in the lift line skis or snowboard will naturally help people keep a proper physical distance. Everywhere else, one must be six-feet apart from anyone not in your household at all times.
RULES TO FOLLOW
Ride the chairlift with members of your household. If the lift ride is less than 15 minutes you may ride with non-household members if you are seated at least one seat space apart.
Be prepared to stay outside most of the day. There is very limited indoor space available.
Food and beverages are limited and only available packaged to-go.
If sick or have been exposed to the Coronavirus, please don't visit. That can be a hard decision, but for the greater good, please stay home.
If you can't wear a mask, please stay home.
If you won't wear a mask, please stay home.
KIRKWOOD GETS 11 INCHES NEW SNOW: All 14 Tahoe ski resorts received new snow this week, so there should be more terrain to ski or ride over the holidays.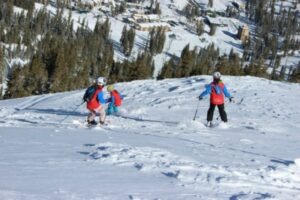 Kirkwood Mountain benefitted most among Tahoe ski resorts, getting 11 inches in the storm that began Wednesday evening (Dec. 16) and lasted through much of Thursday morning. Located in South Lake Tahoe, Heavenly got the second most snow, recording 10 inches. Sierra-at-Tahoe had 9 inches, giving the resort 26 inches over the past week.
EXTENDED WEATHER FORECAST: There is no snow in the forecast through Christmas Day. However, there is a chance of snow in the Tahoe region Dec. 26-27.
According to Bryan Allegretto, California Snow Forecaster for OpenSnow, the Tahoe region should see mostly sunny skies through the weekend as high pressure builds over California. The dry pattern continues into next week. The days leading into Christmas Day should be sunny with agreeable daytime temperatures.
TAHOE SNOW REPORT (Dec. 18)
Kirkwood: 11 inches
Heavenly: 10 inches
Sierra-at-Tahoe: 9 inches
Diamond Peak: 8 inches
Homewood: 8 inches
Sugar Bowl: 7 inches
Boreal: 7 inches
Squaw Valley: 6 inches
Tahoe Donner: 6 inches
Alpine Meadows: 5 inches
Mt. Rose: 4 inches
Northstar: 3 inches