What coronavirus measures can skiers and snowboarders expect this season at Tahoe ski resorts?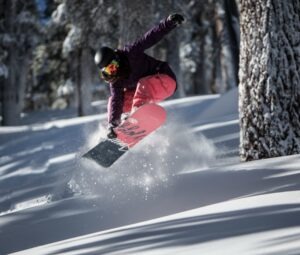 The coronavirus has impacted many businesses and the ski industry is no exception. The pandemic virus shut down all Lake Tahoe ski resorts by mid-March 2020 and none of them were able to reopen. A similar scenario played out worldwide.
Vail Resorts, the largest ski resort operator in North America, has three Lake Tahoe properties – Heavenly, Northstar California, Kirkwood. The three Tahoe ski resorts will require advance reservations when visiting the slopes this year.
Squaw Valley-Alpine Meadows announced earlier this year that it would not use a reservation system.
Many other Tahoe ski resorts, including Squaw-Alpine, Sierra-at-Tahoe and smaller resorts like Homewood, Mountain. will not allow walk-up ticket sales.
Also new this season is Tahoe ski resorts will be capping the number of tickets they sell, depending on the terrain they have available. That means skiers and riders must plan ahead, particularly for busy weekends and holidays.
"As we all work together to slow the spread of COVID-19, we recognize the importance of physical distancing and avoiding crowded environments," said Jon Slaughter, executive director of marketing for Sugar Bowl and neighboring Royal Gorge Cross Country. "Although an uncrowded experience has been part of the Sugar Bowl brand ethos for decades, in this pandemic climate we must be especially careful not to overwhelm the resort by overselling it."
In an unprecedented move, Sugar Bowl ski resort announced Sept. 8 it has put a temporary stop on sales of 2020-21 season passes. Sales could resume this fall or winter, depending on the status of coronavirus safety guidelines in the county and state.
Sugar Bowl has not yet decided if it will implement a system that requires passholders to reserve a day of skiing or snowboarding, Company leaders believe their strategy of limiting pass sales could be an effective alternative.
"We can't guarantee that we won't need to introduce a reservation system for passholders at some point, because the coronavirus situation is constantly changing," Slaughter said. "By limiting the number of passes we sell, our goal is to safely and comfortably accommodate all of our passholder guests each day this winter, without a need for them to reserve their visit days in advance."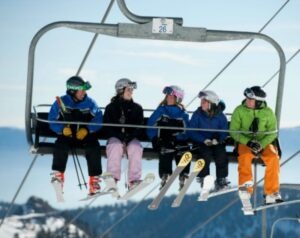 This is what guests can expect for the 2020-21 season at Tahoe ski resorts
Physical distancing protocols will be in place for both indoor and outdoor spaces.
Regular cleaning and disinfecting of high-touch areas will take place.
Face coverings will be required in all indoor spaces, the base area, when loading and unloading a lift, as well as whenever physical distancing cannot be achieved.
Staff wellness checks will be in place daily for guest and employee safety.
Lodge capacity will be limited in compliance with local, state and federal regulations.
Many restaurants will be redesigned to emphasize to-go options with limited seating available.
Guests will likely not be required to ride a chairlift with skiers and riders they do not know, and will be expected to group instead with members of their party.
Owned by Alterra Mountain Company, Squaw-Alpine is prioritizing access for season pass holders and will tightly regulate the number of daily lift tickets that will be available by advance purchase only.
"Since last winter's resort closures, our teams have been working to develop operating plans and protocols designed to mitigate the spread of COVID-19," said Rusty Gregory, Alterra Mountain Company CEO. "The effectiveness of these plans will rely on your cooperation with our enforcement of face coverings, social distancing and crowd management on and off the mountain."