Considering all the snow they have received; it's been a wonderful season for Tahoe ski resorts.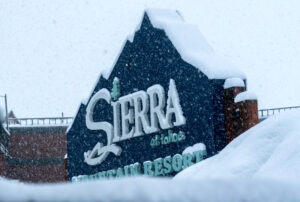 A season of prosperity has blessed all Lake Tahoe area resorts, but none is more gratifying than what's taken place at Sierra-at-Tahoe.
The venerable resort off Highway 50 heading into South Lake Tahoe got back to normal following a season where it was totally shut down by the devastating Caldor Fire.
SEE TAHOE SKI RESORT CLOSING DATES, SEASON SNOW TOTALS BELOW
All the laborious offseason work to renovate the resort paid off. Sierra opened the 2022-23 season on Dec. 3 and enjoyed a wonderful comeback with a plethora of enjoyable powder days for skiers and snowboarders. The curtain comes down on Sierra Sunday (April 23).
"As we wave goodbye to this monumental season, look forward to updates on Phase 2 from the 2021 Caldor Fire restoration, kicking off this summer that will be focused on remediation in the gladed areas that were closed this year," a Sierra press release said this week. "What this means is even more new terrain next season, more good times to be had, and more memories to be made."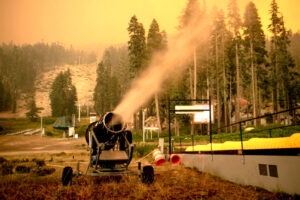 Who can forget the memory of the Caldor Fire, which threatened to burn down the entire resort property in August 2021. The fire burned 80 percent of Sierra's 2,000 acres, damaged the maintenance facility, five of its nine lifts and the magic carpet, and equipment like snowcats and snowmobiles.
The fire also killed more than 14,000 trees, which had to be removed from the mountain in a long, tedious process. Much of the area's recognizable terrain and famous tree skiing was destroyed, which can be seen when comparing this season's trail map to the 2020-21 map.
"We had to remove a lot of the trees. While it's devastating for the people who have been coming here for 10, 15, 20 years, opening day is going to be really exciting," Sierra's Shelby Dunlap prior to their early December opening.
The largest impact came on arguably the resort's most popular terrain – the West Bowl. This was previously an area of blue and black runs that are a favorite of many skiers and snowboarders who weaved in and out of tree islands. This season the bowl was wide open.
The West Bowl runs were still marked and named, but where there once were trees is now defined as "off-piste terrain open only when conditions permitted." The area between Upper Dynamite and Jack Rabbit used to be all trees and is now a double black area called Jack's Bowl with very few trees up high and more off-piste conditions lower on the runs.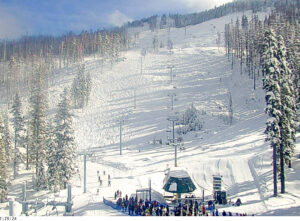 On other parts of the mountain, most of the tree areas were closed all season. This year's snowfall halted work in these areas, and restoration will resume after the resort closing.
Sierra says it had 50-plus snow days this season and the second highest total snowfall on record (685 inches) in a comeback season to remember.
"There was a moment after the fire came through where a lot of people were thinking 'this is it for Sierra' because of the amount of damage that we had sustained," Dunlap said. "But the fire gave a lot of us a purpose to work toward something greater and bring Sierra back."
SEASON PASSES, APPRECIATION MONDAY: Now is the time to purchase a 2023/24 Sierra-at-Tahoe season pass at the lowest price of the season.
Skiers and riders can renew their pass now and ski for FREE through closing weekend, including a special Customer Appreciation Day on Monday (April 24), from 10 am to 2 pm.
"This Sierra tradition is all about saying thanks and giving back to our community, which has given so much to Sierra all season long," the resort stated. "All lift ticket proceeds from this day will go toward local youth recreation, education and more in South Lake Tahoe."
CLOSING DATES, SEASON SNOW TOTALS