There are people who love to ski, then there's Genevieve Ormond, who finished a monumental ski season in late May at Arapahoe Basin in Colorado.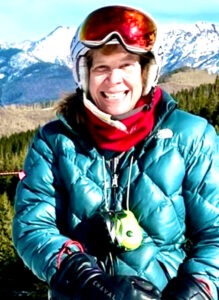 The amazingly determined 59-year-old Ormond reached a major milestone May 24, getting in her 200th day on the slopes this season.
The Vail resident did most of her skiing this season at the Lionshead Village area of Vail Ski Resort and her late-season efforts took place at Arapahoe (A-Basin), where the Colorado ski season is typically the longest. Closing day this season was Sunday (June 5).
Ormond's season started Oct. 17 at A-Basin with no particular goal in mind. Around January, her ski instructor boyfriend, Mark Morgenstern, started doing calculations after learning from a friend regarding the 200-day mark.
"That's the first time I ever even knew there was something about 200 days," Morgenstern told the Vail Daily, a newspaper in Colorado. Morgenstern recalls thinking, "Oh, that sounds impossible."
However, he eventually mentioned it to Ormond, who had already been contemplating the milestone.
"I said to myself, 'I'm going to get her there,"' Morgenstern said. "If she wants to do this, I'm going to get her there. That was my focus. She's amazing. She's an amazing person."
Ormond is a lifelong skier, skiing for Rutgers University as an undergraduate. She lived and worked in New York for many years after graduating from Wharton Business School and rose to become the vice president of a career skill advancement company in Manhattan.
One winter, Ormond decided to take a Colorado ski trip. She came to Vail and wound up staying the summer. Loyal to her company, she moved back to Manhattan for three years, just as the internet was booming. But the lure of Vail remained.
"I asked the CEO of my company what I needed to do to keep my job and still live in Colorado. And he said I could telecommute," recalls Ormond, who was literally on a plane bound for Colorado the next day, relocating to Vail on Nov. 7, 1992.
STROKE NEARLY CLAIMED HER LIFE: Twelve years after moving to Vail, skiing any longer was in jeopardy, as well as her life. On Jan. 10, 2004, Ormond was riding up a Vail chairlift when she felt a stiff burn in her neck. Knowing ski patrol was near, she got off the lift and immediately headed in that direction.
Good thing she did, because her brain was hemorrhaging. Ormond was rushed to Vail Medical Center and put on a life flight to Denver. She arrived at Swedish Medical Center that Saturday in a coma. On Monday, she woke up and asked, "what happened to Sunday?"
For the next three months, Ormond worked to relearn how to walk and talk. "I could do nothing," she said.
Her post-brain surgery rehab was underway. During that recovery period, she flew to be with her brother in New Jersey. While there, roughly 10 months after her stroke, Ormond went skiing because she just had to. It was no average day on the slopes. Ormond had a harness wrapped around her for protection.
"It was like what you see with little kids. I had to learn to ski all over again," Ormond recalls.
The first day back on the slopes was in November. By April, she was back in Vail skiing her beloved slopes.
Long ski seasons are nothing new to Ormond. COVID "limited" her to 125 days on snow in 2020. Despite some limitations last season, she managed to get in 171 days on the slopes.
A modest person, Ormond won't dwell too long on the 200 ski days accomplishment. She's already thinking about next season.
"All I can tell you is that after 30 years of living in Vail, I still appreciate Vail itself because I feel like it's like living inside of a postcard," she said.