Concerned about the changing climate and the implications of fires in the Lake Tahoe region?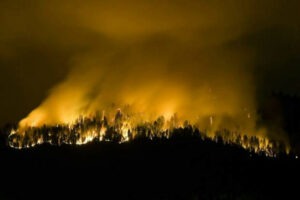 If so, this scheduled forum in South Lake Tahoe on Jan. 27 might be one to consider attending. The free event is open to the public and will be held at Harveys Lake Tahoe Cabaret Theater in South Lake Tahoe.
The first segment of a three-hour furum is titled "How Tahoe Deals with Climate Change." It starts at 8 a.m. on Monday, Jan. 27, and partners with Capital Public Radio's creators of the TahoeLand podcast. The session concludes at 9:15 a.m. and is followed by a Q&A.
At 9:30 a.m., a panel meets to discuss – "Wildfires: The New Reality. Conditions, Public Safety, Power Outages." The panel goes until 11 a.m. and a Q&A with the panelist follows.
With fire a relevant weather topic of public interest, the Lake Tahoe Visitors Authority welcomes community attendance and participation for the presentation.
The fire panel roundtable discusses current and long-range conditions, power outages/impacts; customer safety; first-ever extreme red flag warnings, and public messaging best practices.
The fire speakers are:
Chris Anthony, Staff Chief for CAL FIRE, Sacramento
Rich Thompson, Incident Meteorologist, National Weather Service Los Angeles/Oxnard
Scott Strenfel, Meteorology Operations & Analytics, Pacific Gas and Electric Company
Chad Myers, CNN Weather Correspondent
The climate change speakers are:
Ezra David Romero, Environment Reporter
Emily Zentner, Interactive Producer and Data Reporter
The climate and fire event are part of Operation Sierra Storm (OSS), a leading national weather conference that takes place in South Lake Tahoe from Jan. 26-28. It is a cutting-edge meteorological forum and seminar for network television meteorologists from around the country.
OSS features leading scientists and experts discussing newsworthy weather and science topics, and provides ongoing education, networking, and live broadcasts opportunities. The conference reinforces South Lake Tahoe's reputation as a leading winter destination through online, print, digital and TV outlets in major markets.
The climate and fire forum are presented by the Lake Tahoe Visitors Authority & Tahoe Douglas Visitors Authority with support locally from: Heavenly Mountain Resort, Harrah's & Harveys Lake Tahoe, Edgewood Tahoe, Lake Tahoe Resort Hotel, Hard Rock Hotel & Casino Lake Tahoe, MontBleu Resort Casino & Spa, Tahoe Regional Planning Agency, Tahoe Fund.