Are you looking for a different culinary experience, one that involves a creative chef who will design a unique, multi-course meal right before your eyes? If the idea sounds appealing, it can definitely be accomplished at the Manzanita Restaurant at The Ritz-Carlton, Lake Tahoe.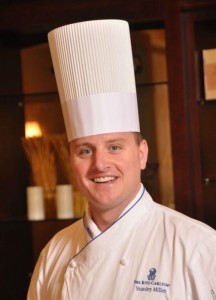 The "Chef's Tasting Counter" is an interactive tapas tasting that's created by Executive Chef Stanley Miller. It's a fun, informative and an extremely tasty dining experience that allows each person a direct view into the exposition kitchen and includes personal interaction with Miller and talented members of his staff.
The tasting counter offers a close-up view for up to six people. The tasting menu reflects the innovative offerings of the Manzanita, a classy restaurant located inside the spacious The Ritz-Carlton, Lake Tahoe. The resort hotel resides mid-mountain at Northstar California ski resort.
This novel dining option has been so popular in its trial this summer that it will now be a regular feature year round. The Chef's Tasting Counter will continue this fall and winter, and is available any night of the week. Note that advance reservations (48-hour confirmation in advance) are required.
Tasting menus start at $95 per person and includes a six-course meal. Additional courses are also available for purchase. Wines can be recommended with each course to enhance the meal. Reservations can be made by calling 530 562-3121.
The Manzanita restaurant elegantly embraces the mountain setting at The Ritz-Carlton, Lake Tahoe. It features a lively bar atmosphere with some creative bartenders who provide a unique touch to a number of their specialty cocktails. The Manzanita has a vibrant and inviting ambiance and also includes a private dining room.
Besides the Chef's Tasting Counter, the Manzanita also offers a "Chef's Table," which is designed for intimate dinners of up to eight guests that features mountain-inspired California cuisine. Guests will enjoy a private table adjacent to the exposition kitchen and personal interaction with the chef de cuisine, who will prepare a tasting menu reflecting the innovative offerings of the Manzanita.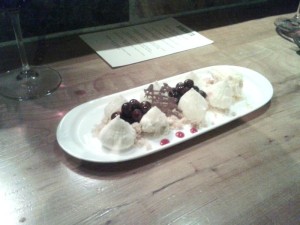 Chef Miller oversees all hotel culinary activities, including the kitchens for signature restaurant Manzanita, The Living Room, MountainBlue, 24-hour In-Room Dining, and the resort's extensive banquet and catering offerings.
"Quality, detail and perfection are at the core of my belief system, along with an intense passion and drive for what I do," said Miller, who has 16 years of culinary experience. "I always use the highest quality ingredients to produce the best product, and continually refine my skills by challenging myself daily. I love what I do, and it reflects in everything I produce."
Miller assumed the role of Executive Chef at The Ritz-Carlton, Lake Tahoe in July 2013. He previously served as the Executive Sous Chef at The Ritz-Carlton, Orlando, in Grande Lakes, Fla. During his tenure, he was selected to participate as a culinary trainer for two international openings of Ritz-Carlton hotel properties, and was responsible for the management of the hotel's culinary team, development of menus, and guest dining experiences.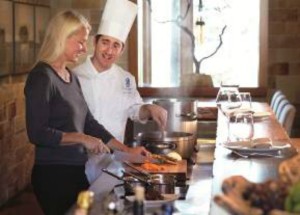 With experience as a sous chef, banquet chef, line cook and pastry chef, Miller is well versed in the culinary arts as well as creative development and execution of new menus. His varied experience working at restaurants and hotel properties in Miami, New York City and Atlanta give him a unique perspective and have contributed to his culinary knowledge and leadership.
For hotel reservations at The Ritz-Carlton, Lake Tahoe, visit www.ritzcarlton.com/laketahoe or call for reservations at 800 241-3333.
Jeffrey Weidel can be reached at skiweidel@gmail.com. Thanks for visiting his website at www.tahoeskiworld.com