Attention all you budget-conscious types. Let's face facts – change is required. It's time to ditch those archaic skis and get hooked up with a new pair.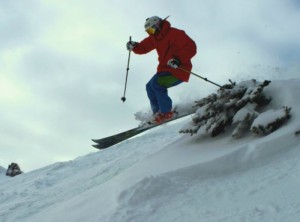 Yes, it is hard pulling the trigger, especially when your bank account isn't overflowing with excess cash and the old skis still provide adequate transportation. Yet so did my aging Honda Civic for many years, but eventually I was much happier purchasing a new car.
If you are considering new skis, here are some helpful guidelines to follow in the search for your new-and-improved mode of travel down the slopes.
Assess Your Ability: I had a friend who once bought a pair of performance skis that were much longer in length than he could handle. He would grow into them, he swore. He never did.
Be honest with yourself prior to the purchase. What type of terrain do you ski – bumps, steep chutes, trees, powder, terrain parks? Or is cruising down a modest groomer more your style?
For most people, an all-mountain ski is the way to go. Designed for recreational skiers who need solid carving capability, these skis will work just fine for the average skier on all types of terrain.
Yet there are skis designed for specific conditions or terrain. Fat skis work great in powder, while twin tips are designed for both powder and terrain parks, and race skis will get one down the hill in a tremendous hurry.
Don't be Afraid to Demo: No one would consider buying a car without at least driving it around the block. So why should skis be any different? Give them a test drive.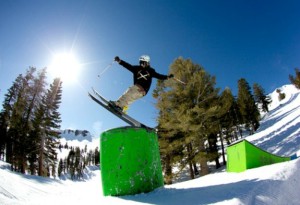 Do the research on different manufacturers and check for various features and price range. After narrowing down the choices, then go try them out for real.
Demo Days are not hard to locate; practically every resort offers them. Go find one, or maybe plan on taking in a couple. It can actually be fun, comparing each model and trying to decipher the differences.
Too Short? No Such Thing: The better the skier, the longer skis they should be on, right? That's definitely old-style thinking. Since the industry-wide switch to shaped skis, that line of thinking no longer applies.
A decade or more ago, good to expert skiers were often found on long skis measuring 210 to 215 centimeters. But with the popularity of the modern skis those same level of skiers can now maneuver more easily and get the same performance in 160-175 skis.
Finding the Bindings: Don't get hung up on locating just the right bindings. Many alpine skis now come with integrated binding systems, providing your basic one-shop stop.
Bindings are insignificant to most recreational skiers. Getting them properly adjusted to one's ability and weight is the important thing.
Where to Buy: For the best service, try the local ski shop, not the big sports mart that sells everything from sleeping bags to golf clubs. A knowledgeable salesperson that understands the product is much more helpful.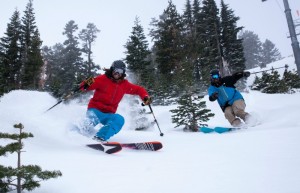 Buying online is another option. However, proceed with caution. Definitely know what you are looking for and beware of deals that sound too good. Make sure you are also aware of the warranties.
If you are new to skiing/snowboarding, stay away from garage sales and be careful at ski/snowboard swaps because you may wind up with gear that is outdated and inappropriate.
Jeffrey Weidel can be reached at [email protected]. Visit his winter website at www.tahoeskiworld.com and follow him on twitter @jeffweidel.