When shopping for a BMW 3 Series sedan, there are two legitimate choices.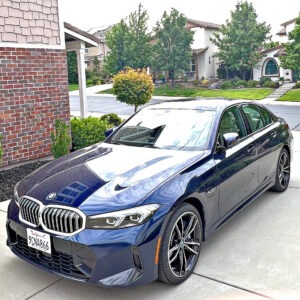 Most admirers of BMW vehicles know all about the traditional gas-powered 330i, which has been around for more than two decades. The lesser-known alternative is the 2023 BMW 330e, a well-balanced compact plug-in hybrid luxury sedan.
Having spent a week giving the 330e a good test, we came away highly impressed by its agreeable driving characteristics, its luxury technology features, and the punchy but not overwhelming performance. And the plug-in hybrid is also affordable, starting at approximately $44,900, nearly identical to the price tag for the 330i.
There's some pop in regards to the 330e exterior, although it's not real flashy. But BMW did give it some subtle exterior tweaks this year and resisted the temptation to add its new oversized front grille that would have been out of place for this sleek compact sedan.
Inside, the 330e has a new 14.9-inch infotainment display featuring the latest iDrive infotainment software. BMW also revised the HVAC vents that accommodate the larger screen. The only thing we found a bit annoying was hunting for the climate controls that are only accessible via the touchscreen.
There's not much difference between the interior of the 330e and the 3301. Both sedans offer solid overall space for a compact. The 330e seating is extremely comfortable up front, offering both generous head and leg room. Naturally, the back seat is not as spacious, yet will accommodate even 6-footers. The cargo area is 13.2 cubic feet of space, more than most of its competitors.
The software includes the BMW Intelligent Personal Assistant, a nice feature that can be easily utilized and will even open and close the windows or the sunroof through verbal commands.
The BMW 330e has an electric-only range off 22 miles, good enough for a short commute to work and back. The 12-kWh battery is mounted in the floor of the trunk and can easily be charged at home with a 120-volt cable outlet.
AT A GLANCE –2023 BMW 330e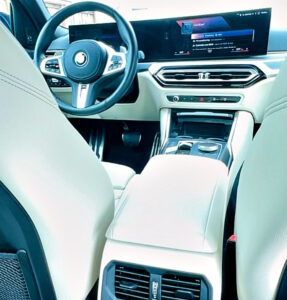 Performance: electric motor, turbocharged 2.0-liter, four-cylinder, 288 horsepower
Mileage estimate: 26-36 mpg
Price estimate: $44,900 – $46,900
Warranty: 3 years/36,000 miles; drivetrain: 4 years/50,000 miles; roadside assistance: 4 years/unlimited; corrosion: 12 years/unlimited; electric components: 8 years/80,000 miles
Performance is a plus, thanks to an 83kW electric motor and turbocharged 2.0-liter, four-cylinder engine that combines for 288 horsepower and 310 pound-feet of torque. It's mated with an eight-speed automatic transmission. The 330e has been clocked going 0-60 mph in 5.6 seconds and its total range is 320 miles.
We found the sporty sedan delivered a pleasurable ride, regardless of the situation. It proved very proficient on some challenging country roads where hugging the asphalt was required. It also cornered well and climbed effortlessly over some sizable hills. One complaint is we wish the regenerative braking was more pronounced.
The 330e is equipped with driver safety features that include autonomous emergency braking, forward collision alert, lane-keep assist, lane-departure warning, blind-spot monitoring, rear cross-traffic alert, and active cruise-control system with stop-and-go capabilities.
If the search is on for a luxury plug-in hybrid sedan with lots of fine qualities, including a reasonable price, make sure to check out the 2023 BMW 330e.
Weidel on Wheels is featured regularly on www.tahoeskiworld.com. Auto writer Jeffrey Weidel can be reached at [email protected]. Follow him on Twitter at @jeffweidel.