Finally, the weather at Tahoe ski resorts is somewhat back to normal.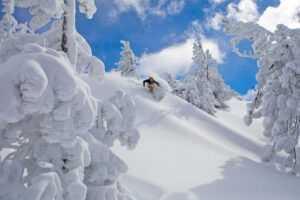 Following yet another evening of snowfall, the sun broke through Thursday (Jan. 19) to the delight of skiers and snowboarders who have been waiting nearly a month for an extended period of good weather in the Tahoe region.
CHECK OUT LATEST TAHOE SNOW REPORT BELOW
For a midweek day, Thursday was a busy one at most Tahoe ski resorts. It was definitely a POW day in Tahoe, thanks to another overnight snow and the many storms that hit the region prior to the Christmas holidays. Tahoe ski resorts were reporting between 4-9 inches of snow Thursday morning.
"This storm feels like a lamb compared to the lions that have been roaring across Donner Summit lately," a Sugar Bowl blog stated Thursday morning. "Everyone's shoveling arms have gotten pretty tired, so we appreciate that there's only a manageable amount of snow to clear today."
NO SNOW IN THE FORECAST: According to the National Weather Service, sunshine should be prevalent for the next 10 days, with many of them the scenic bluebird, sundrenched days that people expect at Tahoe ski resorts. The extended forecast has no snow until at least Sunday, Jan. 29.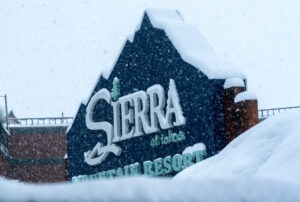 "High pressure is forecast and should block storms from reaching the West Coast with a dry pattern expected for this period," a blog on the Palisades Tahoe website stated. "If this trend continues our dry pattern may only last for 10 days or so, with storms possibly returning the last few days of the month into the first week of February."
SEASON SNOW TOTALS CLIMBING: Like all Tahoe ski resorts, Sierra-at-Tahoe was reporting a fresh blanket of snow after getting 8 inches Wednesday night. That brings the resort's season snow total to a whopping 377 inches, the most among Tahoe ski resorts. Sierra says this is one of its highest recorded totals historically for this early in the season.
"Snow has fallen in all the right places, giving us 100 percent on beginner to expert runs," the Sierra website stated. "Come prepared with your POW skis and boards to shred these freshies all day long."
There are currently eight Tahoe ski resorts reporting 300 or more inches for the 2022-23. Kirkwood is right behind Sierra-at-Tahoe with 376 inches. Other resorts with 300-plus inches include Palisades Tahoe (366), Sugar Bowl (355), Boreal (351), Mt. Rose (337), Northstar (336), Homewood (315), and Heavenly (308).
TAHOE SNOW REPORT (Jan. 19)
Kirkwood: 9 inches
Mt. Rose: 9 inches
Palisades Tahoe: 9 inches
Tahoe Donner: 9 inches
Northstar: 9 inches
Heavenly: 8 inches
Sierra-at-Tahoe: 8 inches
Homewood: 7 inches
Diamond Peak: 5 inches
Sugar Bowl: 4 inches
Granlibakken: NA
Boreal: NA
Soda Springs: NA