One might expect a remotely located golf course near Lake Almanor – roughly 77 miles northeast of Chico – to be on the quiet side during these pandemic times.
But that would have been the wrong assumption on this early-afternoon round at Bailey Creek Golf Course. Available tee times were practically nonexistent and the resort was surprisingly busy throughout the day on its outdoor patio and late afternoon in the bar area.
The unexpected late August crowd made for a little Covid-19 paranoia for a golfer from Rocklin (CA), who was accustomed to sparse restaurant or bar activity at area courses and seeing very few carts with two golfers in them. Although Plumas County has experienced very few cases of Covid-19, the Bailey Creek restrictions seemed a bit relaxed.
When vacationing in scenic Lake Almanor, the focus naturally centers around what can be enjoyed on the eighth largest lake in California (28,257 acres). The list of water activities is immense – boating, kayaking, canoeing, water skiing, jet skiing, wake boarding, tubing, sailing, fishing, and swimming.
If looking for something to do on land, the golf options are good as well. Lake Almanor Country Club is a very good 9-hole track, but the best choice for serious golfers is Bailey Creek, a scenic 18-hole course that is open to the public through Nov. 1.
When Dennis and Susy Durkin purchased the 550-acre Bailey Creek parcel in 1991, they envisioned building an upscale housing community that featured a championship 18-hole golf course with the feel of a country club. The Bailey Creek course offers considerable charm, providing golfers a relaxed, comfortable mountainous setting amidst the numerous towering pine trees.
Bailey Creek architect Homer Flint is accustomed to meeting the needs of vacationing golfers. His resume includes Mauna Kea, Mauna Lani and Kapalua in Hawaii, along with the Phoenician in Arizona, Northstar in Tahoe, and Plumas Pines in Graeagle.
Influenced by famed golf architect Robert Trent Jones, Sr., Flint took Bailey Creek's natural rolling terrain and created a beautiful course that is pleasing to the eye and challenging, yet not overwhelming.
For low handicappers, Bailey Creek can be the ultimate challenge if played from the tips – a whopping 7,040 yards. The blue tees (6,485) are perhaps the most popular and the white tees measure a modest 5,883. The one complaint with yardage is 5,381 yards is far too long for many female golfers, who frequently play Bailey Creek with their spouses.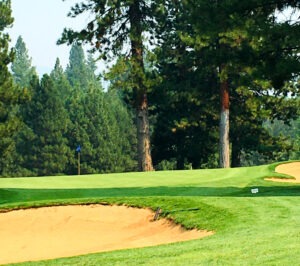 As a rule, the fairways have generous landing areas, assuming one can avoid the bunkers and the rough, where the grabby blue grass can make for some disastrous second shots. The opinion here is there are too many bunkers that can be reached off the tee. Apparently, Flint enjoys bunkers everywhere because most greens are guarded by multiple sand traps and there are 50 of them overall.
The Bailey Creek greens require some course knowledge, so first-time golfers beware. Many of the greens are sizable, featuring undulations and subtle breaks that can be difficult to assess, resulting in the dreaded three-putt.
The agreeable temperatures and gentle winds make for an ideal summer round of golf at Bailey Creek, where the pace of play typically doesn't get bogged down. The sheer beauty includes views of the nearby Cascade Mountain range and striking Lassen Peak, an active volcano that measures 10,457 feet and is about 50 miles away.
Depending on the time of year, green fees with cart range from $65 to $95 and go lower after 1 p.m.
For more information, visit www.baileycreek.com or contact the pro shop at 530 259-2868.