After consultation with local officials, the Lake Tahoe Visitors Authority is recommending visitors postpone any immediate travel plans to the South Lake Tahoe area due to impacts from the Caldor Fire.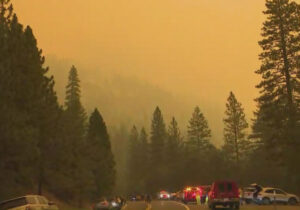 Lake Tahoe Visitors Authority (LTVA) is the tourism agency representing California and Nevada on the South Shore.
The Caldor Fire started Aug. 14 in El Dorado County, four miles South of Grizzly Flats, two miles East of Omo Ranch. The fire has been contained by 19 percent.
A major influx of firefighters and heavy equipment, including air tankers to drop retardant, plus the forecast for calmer winds, have lent a guarded sense of optimism following 12 days of aggressive spread.
When appropriate, the LTVA will provide return visitation information and updates on conditions.
Information on the Caldor Fire, evacuation information, resources, etc., will be updated as soon as they are received. Continue to check Destination Updates for the latest details in addition to Tahoe South's webcams.
"Our thoughts and gratitude go out to all the firefighters and first responders working tirelessly to keep our communities safe. And our hearts and hospitality go out to the people who've lost their homes," said Carol Chaplin, CEO and president of the Lake Tahoe Visitors Authority. "The current priority is the health and safety for our community and assisting firefighting efforts."
Road Closures: 
The Highway 50 closure has been extended East to Meyers (Highway 50 and Highway 89 junction).
Evacuation Routes: 
Residents evacuating the area should use Highway 50 East.
Evacuation Order (which means need to leave):
El Dorado County
From Twin Bridges east to Echo Summit
• From Highway 50 South to Amador/Alpine County line
• From Highway 50 North to Flag Pole Peak.
Evacuation Warnings (which means be ready if you need to leave):
El Dorado County
Christmas Valley from Highway 89 West to Echo Summit
• Highway 89 due West to Watershed Ridge and South to the Amador/El Dorado County line.
Alpine County
Highway 89 South from Luther Pass Road to the Pickets Junction (Highway 88).
• West on Highway 88 to Kirkwood.
With several wildfires throughout Northern Nevada and California, depending on the wind direction there may be impacts on air quality. Click here for Real-time air quality monitoring