It is still not too late for Northern California skiing and snowboarding families to get their kids the best deal on a full season of ski and snowboard equipment with Any Mountain's Junior Trade Up program.
Now entering its 10th season, the budget-friendly equipment program was created to assure skiing/ riding families with annual access to updated equipment at an affordable price – year after year.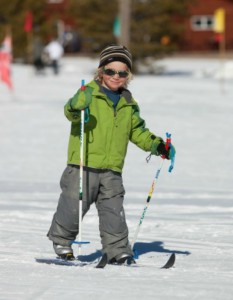 Trade Up is available for California kids at all seven Any Mountain store locations throughout Northern California, including Roseville, Corte Madera, Redwood City, Concord, San Jose, Dublin and Fremont.
"As California families gear up for what is shaping up to be one of the snowiest seasons in years, thousands of California families are signing up for Junior Trade Up because of the affordability, convenience, and flexibility the program offers," explains Bruno Gotzmer, regional manager for the seven Any Mountain stores. "Along with the great value and products available with Junior Trade Up, our price and service guarantee gives parents the confidence that their child is on equipment that is matched to their age, weight and ability with a single visit to an Any Mountain shop each year."
Purchase of a complete set of used equipment including skis, boots, bindings, and mandatory binding check costs $119.98 for the first year. After the first season, cost for the complete package drops 50 percent – to only $60 for a full season.
Equipment can be exchanged at any time during the season to make sure the size and fit remains comfortable at no additional cost. Selection depends on inventory availability. Every year that participating kids return their gear for an exchange, they are refit into a different set of used equipment for the upcoming season. The 50 percent off deal remains in effect for as long as the child continues to participate in the Any Mountain Junior Trade Up program.
Junior Trade Up is also available on new equipment with packages starting at $229.99 for the first year that includes a $15 new ski set up fee. Just like the offer on used gear, equipment returned the following season receives a 50 percent discount towards another new junior package – for only $114.99 per year including the mandatory binding adjustment.
For kids that love their gear or don't grow a lot one season, families have the option of keeping their child's equipment for a second ski season and then returning it after two seasons for a 30 percent discount towards another new set of junior equipment.
Similar deals are available for young snowboarders with prices starting at $99.98 for used equipment and $229.99 for new equipment. Prices include a full snowboard setup with boots, bindings, and deck. Beginning with the second season of participation, the annual price of ownership is only $50 for used gear and $114.99 for a new snowboard set up each year.
A significant advantage offered by Junior Trade Up is that kids are properly fitted annually into updated equipment that keeps pace with their growth – or even at mid-season if a growth spurt warrants it. Just as importantly, the price is considerably lower than season-long or multiple daily rentals. For both skis and snowboards, the 50 percent discount goes into effect the second year.
Junior Trade In is currently measuring and fitting kids at all Any Mountain locations with full inventory. The best and widest selection of both used and new equipment is available before the holiday season.
For details and Any Mountain locations, visit http:// www.anymountain.net/productsandservices/jrtradeprogram.
Jeffrey Weidel can be reached at [email protected]. Follow him on Twitter at @jeffweidel and visit his website at www.tahoeskiworld.com.