Another day, another snow storm! That's the definite pattern right now at Tahoe ski resorts.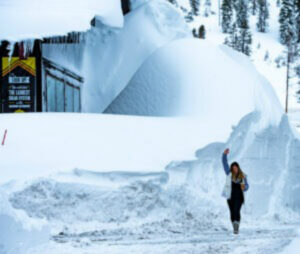 The National Weather Service (NWS) has issued a winter storm warning that took effect Friday and lasts through 10 a.m. Tuesday. By Tuesday morning, there could be 5 feet of new snow above 7,000 feet.
The snow over the past month has had a frequent companion – wind. The NWS says the winds will be high and could gust up to 100 mph on ridge tops during the Martin Luther King holiday weekend.
CHECK OUT LATEST TAHOE SNOW REPORT BELOW
Saturday morning (Jan. 14) arrived with fresh snow and blustery winds at most Tahoe ski resorts. All the region's ski resorts were being impacted by yet another day of challenging conditions, resulting in lift and terrain closures. There could also be occasional rumble of thunder around the Tahoe Basin.
"It's going to be a powder-hound storm chaser kind of day," stated a message Saturday morning on the Sierra-at-Tahoe website. "Be prepared for snowy riding conditions, including potential white outs, high winds, and high snowfall."
WEATHER BREAK SUNDAY: It appears that Sunday will easily be the best day for skiing and riding during the MLK weekend.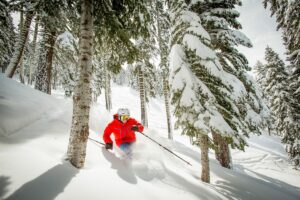 The Palisades Tahoe website wrote that "we are between storms with a moist flow and lighter snow showers, or even scattered snow showers with some breaks Sunday. Ridgetop wind gusts could drop to 40-50 mph, which may mean little if any lifts are affected. We are only expecting around 1-3 inches of new snow during the day."
The break in the weather doesn't last long. Snow showers take place Sunday evening and by Monday morning there may be another 6 inches or more at many Tahoe ski resorts. The snow should become steadier early Monday as the next storm moves in and continues through the afternoon.
SNOW TOTALS RISING PAST 300 INCHES: The storms this week continue to pound Tahoe ski resorts and naturally the season snow totals keep going higher and higher.
There are now six Tahoe ski resorts reporting 300 or more inches of snow for the 2022-23 season. And one additional resort is inches away from surpassing the 300-inch mark, an extremely high total for this early in the season.
Boreal reported it got 26 inches of new snow by Saturday morning, hiking its season total to 340 inches, the most among Tahoe ski resorts. Both Sierra-at-Tahoe and Palisades Tahoe are at 320 inches. Other members of the 300 club include Sugar Bowl (315), Kirkwood (312) and Mt. Rose (300). Northstar is getting close at 298 inches and further south of Tahoe Mammoth has 337 inches for the season.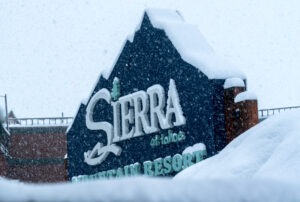 ROAD CLOSURES: By the noon hour Saturday, Caltrans had shut down Interstate 80 from Colfax to the Nevada state line due to zero visibility. There was no projected time for opening the freeway into Lake Tahoe.
By late Saturday morning, closures were also taking place on Highway 50 that leads into South Lake Tahoe and Highway 88, which accesses Kirkwood ski resort. Both roads were experiencing multiple spinouts.
The driving was also somewhat treacherous throughout both the south and north sides of Lake Tahoe.
TAHOE SNOW REPORT (January 14)
Boreal: 26 inches
Soda Springs: 26 inches
Sugar Bowl: 17 inches
Kirkwood: 15 inches
Northstar: 14 inches
Palisades Tahoe: 14 inches
Homewood: 12 inches
Tahoe Donner: 11 inches
Mt. Rose: 9 inches
Sierra-at-Tahoe: 9 inches
Granlibakken: 7 inches
Diamond Peak: 6 inches
Heavenly: 5 inches