American snowboarder Jamie Anderson was clutch, making the last effort her best one. And the result: the coveted gold medal in Women's Slopestyle Sunday at the 2014 Winter Olympics.
Anderson, a Lake Tahoe product who grew up challenging anything and everything at Sierra-at-Tahoe ski resort, laid down a superb run on her final trip down the tricky and somewhat dangerous slopeside course in Sochi, scoring a 95.25 to claim gold in the snowboarding competition.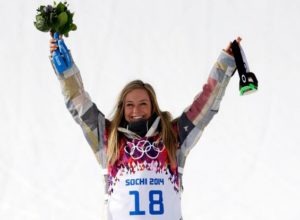 Going third to last in what had been a low-scoring contest on an intimidating course at the Rosa Khutor Extreme Park, the 23-year-old Anderson produced under pressure.
She definitely has a different method for staying calm. Anderson said she had prepared for the final by listening to yoga tapes and lighting candles.
"I was third to last, so I watched almost all the second runs. I was really just trying to just stay calm and kind of just reserve my energy," said Anderson, who had the second best score in Thursday's qualifying.
Finland's Rukajarvi takes silver
Enni Rukajarvi of Finland was a somewhat surprising a silver winner. She was the only other snowboarder to break through the 90-point barrier (92.50). Jenny Jones took the bronze with 87.25 to become Great Britain's first Olympic medalist in a snow event.
Anderson's victory meant an American sweep in the slopestyle event, which was making its Olympic debut. U.S. snowboarder Sage Kotsenburg won the men's event on Saturday.
"It feels amazing," Anderson told reporters. "To be here and represent my country, and just everything that has to do with the Olympics, is such an honor and I'm so grateful right now."
Difficult first run for Anderson
Anderson finished second in her qualifying heat on Thursday and had the second best score overall with a 93.50, which is based off the 100-point criteria. Australian Anna Gasser had the top qualifying mark at 95.50.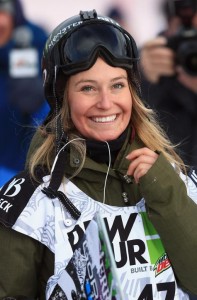 But Anderson had botched a landing on her first run Sunday and was down to one final trek down the slopestyle course.
"It was a lot of stress up there, the outreach that this event connects to across the whole world is just out of control," Anderson said. "I was just trying to keep it light, I was freaking out."
There was also a reminder of the dangers of the sport when Sarka Pancochova, who had led after the first run, botched a jump and landed with a sickening thud on the snow.
The 23-year-old Czech appeared to lose consciousness as she slithered down the slope before being helped to her feet and making her way groggily to the bottom, where she showed her rivals a huge crack in her helmet.
No medal for Torah Bright
Bright has already won one Olympic gold for Australia, but came up short in her bid for three snowboarding medals in Sochi, finishing seventh in slopestyle after failing to land a clean run on a daring effort.