This is a throwback ski resort whose no-frills buildings are aging gracefully, displaying no visual signs of decay as they seemingly revel in the fact that they remind people of the sport's proud past.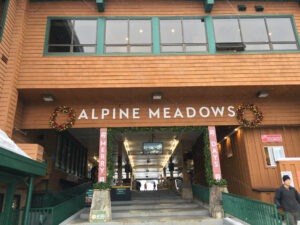 Nestled near the Truckee River and a short drive from Tahoe City, Alpine Meadows ski resort is the antithesis of its famous, modernized neighbor – Squaw Valley. While Squaw basks in its proud Olympic legacy and its expansive village that oozes with charm, less than 1½ miles away Alpine Meadows remains mired in its past, content to provide skiers and snowboarders a familiar old-school, family-friendly vibe.
Yet the oddity for these longtime neighbors and rivals is the resorts are now owned by Alterra Mountain Company and are jointly under one name – Squaw Valley Alpine Meadows. Different as night and day, Squaw and Alpine fly under the same flag that's commonplace now among ski resorts that are owned by a large company.
Give Alterra Mountain Company credit, it recognized the diversity in its 2018 Tahoe acquisition and thus far has let them do their own thing, a decision that allows skiers and riders the option of experiencing both resorts in one day (with the same lift ticket or season pass) or staying where they feel most comfortable.
MODEST BEGINNINGS: Alpine Meadows was developed in 1961 by a close-knit group of Bay Area residents who wanted to offer an alternative to Squaw, which hosted the highly successful 1960 Olympics. Principal owner John Reily developed it initially as Ward Peak Ski Resort.
Yet local legend says the name was quickly changed to Alpine Meadows Ski Area by several wives of the original investors. While they were surveying the mountain for development, their wives were reportedly picking wildflowers in a nearby field and collectively came up with the new name.
Alpine Meadows opened for the 1961-62 ski season, giving Lake Tahoe one more option. The ski resort and the surrounding neighborhood emerged a few years later and is characterized by classic ski cabins and Swiss chalets, giving the community a vintage Tyrolean village look that was popularized in the eastern Alps, located in Western Austria and Northern Italy.
While Alpine has always resided in the shadow of its scene-stealing neighbor, it still remains a favorite destination because the locals love it. Alpine Meadows is a gorgeous mountain with terrific views of Lake Tahoe, great terrain diversity, lots of steep vertical, solid beginner areas, a cozy, unpretentious base lodge, friendly staff, and overall delivers a casual atmosphere.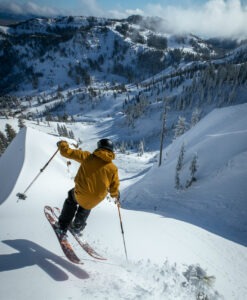 ABUNDANCE OF SNOW EACH SEASON: Of course, it also helps that Alpine annually receives 450-plus inches of snow and has always been one of Tahoe's last resorts to shut down its lifts for the season. Last year was way better than the norm. Alpine had 569 inches of snow when it closed May 19.
Snow was even more abundant at Squaw, where the 719 inches were the resort's third snowiest season on record. Squaw was the last Tahoe resort to stop operations, its final day coming July 7. The season lasted nearly eight months and there were 212 operating days.
While laidback Alpine can't match the enormity of Squaw, it's still a good mid-size resort. It operates 13 lifts, including a high-speed six-seater and three high-speed quads. The resort has more than 100 trails, resides on 2,400 acres of skiable terrain, has a vertical drop of 1,802 feet, and its summit sits at 8,637 feet.
Like all Tahoe resorts this season, Alpine anxiously waited for the weather to grow cold and snow to arrive as the November days dwindled down and Thanksgiving was on the horizon. Thanks largely to its snow-making capability, Alpine and Squaw opened Nov. 15 and were two of the six Tahoe resorts available for skiers and riders during the Thanksgiving holiday.
The snow continued into December and Alpine's totals grew quickly. The resort received 3 inches of fresh snow overnight and Wednesday morning (Jan. 8) was reporting 148 inches for the season. Alpine Meadows currently is running 11 lifts, accessing 84 trails (41 groomed) and has two snow parks available.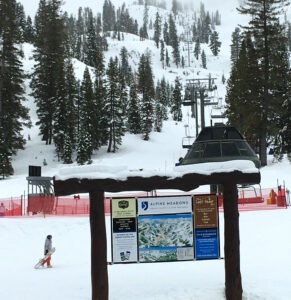 A SKIER'S MOUNTAIN: Squaw Valley is known for its expert terrain, but Alpine is no slouch in that department. Always known as a "skier's mountain," approximately 75-percent of Alpine's trails and seven bowls are intermediate or advanced. On the back side, more than half of the terrain are blue runs with the longest ones coming off the Sherwood lift and some shorter trails via the Lakeview chair.
Thrill-seeking skiers and riders can find the best expert terrain higher up on Alpine's ridges and in bowls, the access requiring a high traverse off the Alpine Bowl chair. There are several sizable black bowls on the Pacific Crest back side, South Face and Big Bend.
NEW LIFT: An added bonus this season is Alpine installed a new high-speed quad. The Treeline Cirque replaces the previously slow-moving Hot Wheels triple chair. Treeline Cirque not only goes higher than the previous lift, it's also located in a wind-protected corridor, and reaches the top of Sherwood Cliffs in just five minutes.
The Treeline Cirque lift relieves some of the pressure off the Summit lift and gives intermediate skiers and riders more terrain to explore.
For more information on Alpine Meadows, visit www.squawalpine.com.