Following an extremely long season, the curtain will finally be coming down on Palisades Tahoe ski resort on Fourth of July.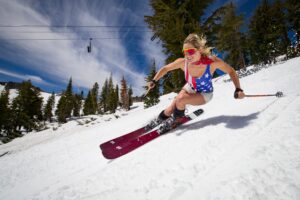 That's right, there will be Fourth of July skiing and snowboarding this summer, thanks to a staggering 723 inches of snowfall the Tahoe ski resort received in the 2022-23 season, the most in resort history.
No other Tahoe ski resort has been open since the middle of May. Diamond Peak closed May 1, Heavenly stopped running its lifts May 7, and Kirkwood concluded its season May 14.
Palisades Tahoe is calling the upcoming holiday period Freedom Fest 2023, a close-of-the-season celebration that takes place July 1 to July 4.
The party-like atmosphere is considered special because the Alpine-side of Palisades Tahoe will be open for skiing and riding into the summertime for the first time in over a decade.
On June 30, skiing and riding will be available from 8 am to 2 pm at Alpine and parking is free. There is no shuttle service that day from The Village at Palisades.
For the remainder of the ski season, Alpine will be operating the following lifts – Treeline- Cirque to Mid-station, Roundhouse, and Summit Express, weather and conditions permitting.
PAID HOLIDAY PERIOD PARKING: Palisades Tahoe has implemented a reserve-in-advance paid parking system ($10) at Alpine from July 1-4. Visitors will have two parking options available. To secure a spot, visit this link.
The resort also highly encourages carpooling (see below) with friends and family during the holiday period to alleviate traffic congestion on Highway 89 and access roads into the valleys.
If skiers or riders would like to park at Alpine, they will have to reserve their parking spot in advance and pay $10. Proceeds from the paid parking reservations will be donated to the non-profit, Truckee North Tahoe Transportation Management Association, supporting innovative transportation solutions in the region.
Free parking will be available at The Village at Palisades Tahoe. However, there are no reservations required; lots will be first-come, first-served. A convenient shuttle service connecting the two base areas will run approximately every 15 minutes from 7:30 am to 5 pm.

There will be Fourth of July skiing and snowboarding at Alpine, thanks to a staggering 723 inches of snowfall this season, the most in resort history.
The Aerial Tram will commence its daily summer operations starting June 30, offering free rides for 2023/2024 Ikon Passholders. Any child under-12 will ride the Tram for free. All adults Tram tickets come with a $5 off coupon for Rocker, a restaurant in The Village at Palisades Tahoe, or Sun Bowl, a refreshing poke and acai bowl spot.
FREEDOM FESTIVAL DETAILS: Starting July 1, the celebration officially begins. Besides the skiing and riding, there will be a multiple lineup of music. There's also an opportunity to purchase a limited-edition event T-shirt.
Headlining the festival July 1 is Surf Mesa, a 20-year-old songwriter and producer from Seattle who creates nostalgic electronic ballads. On July 2, the music is provided by Forester, an indie electronic duo from Los Angeles, consisting of David Parris and Xander Carlson. The July 3 music headliner will be announced soon.
FOURTH OF JULY: Palisades Tahoe currently has no plans for fireworks during the holiday period.
Free commemorative T-shits will be given to the first 500 individuals visiting Alpine. Additionally, the T-shirts will be available for purchase throughout the weekend at Estelle Sports. These shirts serve as a memento of the remarkable snowfall Palisades Tahoe experienced during the season.
In the afternoon, the crowd can rock to Wild Child, a noted Doors cover band. Also performing on Fourth of July are Bluesdays, the Mighty Mike Schermer Band (3 pm) and Roy Rogers & the Delta Rhythm Kings (6 pm).
For more details about Freedom Fest, visit the Freedom Fest blog on the Palisades Tahoe website.