There are three versions of the front-wheel drive 2019 Honda Clarity, a relatively new sedan that gives new meaning to the term "green."
The Japanese automaker is offering the Clarity as an electric vehicle (EV), a fuel-cell model, and a plug-in hybrid electric vehicle (PHEV) that will be the primary focus of this review.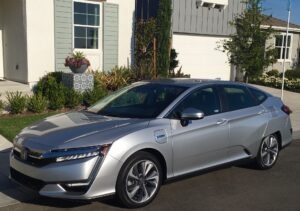 Honda has big expectations for the Clarity, believing it can reach 75,000 in yearly sales by 2021 for all three versions. Combined sales was 20,174. Sales are meager right now for the EV and fuel-cell models. The Clarity PHEV is considered the best buy among the three and is sold nationwide.
The fuel-cell Clarity is an electric motor that draws its power from a hydrogen fuel cell. Not familiar with the PHEV term? Join the club. It's an acronym that puzzles many car buyers when it's mentioned.
Like the Chevrolet Volt, the Clarity PHEV features an internal-combustion engine that's utilized as a generator to charge the batteries for an electric motor that primarily drives the vehicle. A typical hybrid, like the Toyota Prius, uses a gas engine and electric motors that connect to the transmission to get the vehicle in motion.
Not everyone is enamored by the Clarity's exterior appearance. The Clarity is 192.7 inches long and has a 108.3-inch wheelbase. The exterior is rather busy for some, featuring an assortment of odd angles, folds, creases, and slashes that were seemingly done without a true overall game plan.
The PHEV has the most mass appeal in the Clarity lineup. It has a solid electric range, delivers adequate performance, provides excellent mileage, and is a sedan that folks will find comfortable and with good road manners.
Introduced in 2017, the Clarity PHEV starts at around $34,400, which is several thousand less than the popular Honda Accord Hybrid. If applicable, the $7,500 federal tax credit adds another incentive for buying the Clarity.
The Clarity PHEV has a 48-mile range when in EV mode, meaning it will get many people to work and back each day. Charging takes 2½ hours from a 240-volt station and 12 hours from a standard 120-volt wall plug. Thanks to a small 7-gallon tank, the overall range for the PHEV is approximately 300 miles, a low figure when compared to some other green vehicles.
We found the Clarity PHEV providing better performance than expected. It has a 17-kilowatt lithium-ion battery and employs a 1.5-liter, four-cylinder gasoline engine that's paired with an electric motor hybrid. Combined they generate 212 horsepower and 232 pound-feet of torque. The PHEV goes roughly 0-60 mph in 7.7 seconds when fully charged. It gets the equivalent of 110 mpge in EV mode and 40-44 mpg overall.
What is tricky to accomplish is keeping the Clarity in true all-electric mode and expect major acceleration. A big push of the accelerator will immediately flip the Clarity into hybrid mode so the vehicle can receive the needed power. The PHEV comes with three drive modes – Econ, Normal and Sport.
2019 Honda Clarity
Performance: 1.5-liter, four-cylinder gasoline engine, paired with electric motor hybrid system; combined 212 horsepower
Mileage estimate: Electric 110 mpge; Hybrid 40-44 mpg overall
Price estimate: $34,500 to $37,700
Warranty: 3 years/36,000 miles; drivetrain: 5 years/60,000 miles; roadside assistance: 3 years/36,00; corrosion: 5 years/unlimited
The Clarity has paddles on the steering wheel that are not used for the traditional shift to manual transmission. These paddles are all about the regenerative braking. And the paddles are easy to master. Just pull on the left paddle for more braking and the right one for less.
Although the back seat will feel a bit cramped, the Clarity cabin can transport five people. There's ample room up front and the cargo area is suitable as well with 14.8 cubic feet in the trunk. The 8-inch touchscreen is a little less sophisticated than expected and some of the basic functions can be difficult to use. The Clarity does support Apple CarPlay and Android.
We're impressed by Clarity PHEV for its overall package and suspect Honda may have another solid car to add to an already impressive lineup.
Weidel on Wheels is featured periodically on www.tahoeskiworld.com. Auto writer Jeffrey Weidel can be reached at skiweidel@gmail.com. Follow him on Twitter at @jeffweidel.