The first of three snow storms arrived Thursday at Tahoe ski resorts, dropping a high of 16 inches at Alpine Meadows ski resort.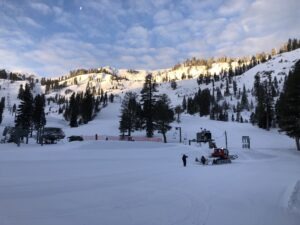 Alpine Meadows was the big winner among Tahoe ski resorts. Neighboring Squaw Valley and Homewood Mountain weren't far behind with 14 inches from the storm, which began Thursday afternoon (Feb. 11) and concluded early Friday morning.
"Winter weather is back in town, just in time for the holiday weekend. Last night we picked up a fresh 14 inches of snow with more on the way," a message said on the Homewood website.
With 11 of Tahoe's 13 ski resorts getting 10 or more inches of snow from the quick-hitting storm, Friday was a powder day for skiers and snowboarders. The snow conveniently halted around sunrise and the sun quickly arrived, delivering a bluebird pow day.
It's shaping up as a good President's Day weekend. Each of Tahoe's three storms is followed by a day of agreeable weather, so the potential for three powder days is very high.
"Note that obstacles do exist and to ski/ride with caution. As we head into a busy holiday weekend, our top recommendation is to be patient and flexible," said Squaw Valley spokesperson Liesl Hepburn. "More snow is expected Saturday, possibly impacting travel and traffic conditions."
TAHOE SNOW TOTALS (recorded Feb. 12)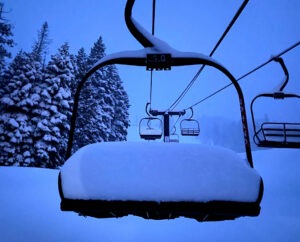 Alpine Meadows: 16 inches
Squaw Valley: 14 inches
Homewood: 14 inches
Sugar Bowl: 12 inches
Sierra-at-Tahoe: 12 inches
Northstar: 12 inches
Boreal: 12 inches
Soda Springs: 12 inches
Kirkwood: 11 inches
Heavenly: 11 inches
Tahoe Donner: 10 inches
Diamond Peak: 9 inches
Mt. Rose: 7 inches
SEASON SNOW TOTALS: Alpine has the most snow this season with 213 inches, followed by Squaw with 211. Two other Tahoe ski resorts surpassed the 200-inch mark with the latest snow – Boreal (202) and Soda Springs (201).
SATURDAY STORM: According to Bryan Allegretto, California Snow Forecaster for OpenSnow.com, the storm moves in Friday night and clears out Saturday evening. Ridgetop winds could be gusting up to 60-plus mph in the morning, so there may be a few wind holds on lifts. But the extreme winds should come down by Saturday afternoon.
Allegretto has the storm dropping between 3-10 inches on Tahoe ski resorts.
MONDAY STORM: Allegretto says this system now looks to be the weakest of the three with most of the energy staying to our north of Lake Tahoe. The forecast models have cut back on the precipitation amounts.
"We could see light snow showers Sunday evening and continuing overnight and through the day on Monday, ending that evening," wrote Allegretto. "It is a backwards storm with colder air at the start and warmer air moving in during the storm with rising snow levels."
When the snow subsides, Allegretto says it may leave behind an estimated 1-7 inches of fresh snow. Tuesday through Thursday are likely agreeable weather days for skiers and riders.