Squaw Valley enjoyed its longest season in resort history, running lifts nearly two weeks after the Fourth of July, before finally closing for the 2016-17 season.
Winter and summer blended together at Squaw Valley, resulting in an historic winter with operations until July 15. The 200 days of operations is nearly a month more than the average of 174 days.
"This season was one we will not soon forget," said Andy Wirth, president and CEO of Squaw Valley Alpine Meadows. "Mother Nature dealt out her fair share of challenges, with snow totals, wind speeds and overall volatility of weather the likes of which have never been seen in the Sierra Nevada since ski areas have been in operation. However, the monumental snowpack brought the historic opportunity to operate well into summer."
Squaw Valley accumulated 728 inches of snow – equaling more than 60 feet – the fifth highest total in North America. Ten Atmospheric River weather events hit the resort, where the average season sees two to four. January 2017 broke the resort's record for most snow in one month
Squaw Valley Alpine Meadows was one of Lake Tahoe's first resorts to open this season. Squaw began running lifts Nov. 17 and one day later neighboring Alpine Meadows ignited its season as well.
For the 2017-18 season, the biggest news comes at High Camp at Squaw. High Camp has undergone a major overhaul for the season with new carpeting, updated accents and reconstruction of the Observation deck.
High Camp's Terrace Restaurant & Bar has been completely renovated with simplified decor. The restaurant is expected to reopen for the 2017 holiday season. High Camp Marketplace will also open this year, and will feature healthy grab-and-go meals, snacks, coffee, wine and beer.
The resort's Poolside Cafe at High Camp has been renamed Granite Bistro. The bistro is scheduled to open by Dec. 20.
The biggest change at Alpine is the Alpine Meadows Lodge has been renovated this season.
Following last season's huge amount of snow, Squaw has added new snow removal machines to increase its ability to clear roads and parking lots. The resort has also added new snowmaking hydrants and snowmaking equipment.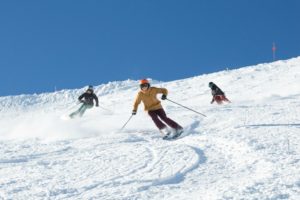 Squaw Valley Alpine Meadows will host an Olympic celebration. Team USA Olympic and Paralympic athletes will visit the resort and meet with fans on Jan. 13.
Squaw will host the NASTAR National Championships, which returns to Lake Tahoe for the first time in nearly 40 years. The championships are scheduled for March 21-25, and will attract some of the most talented skiers in the nation.
Projected Lake Tahoe ski resort openings
Mt Rose: Open
Boreal Mountain: Open
Heavenly Mountain: Open
Squaw Alpine: Open
Kirkwood Mountain: Open
Northstar California: Dec. 1
Homewood Mountain: Dec. 8
Tahoe Donner downhill: Dec. 8
Diamond Peak: Dec. 14
Donner Ski Ranch: Dec. 15
Granlibakken: Dec. 15
Sugar Bowl: TBA
Springs Soda: TBA