Thanks to the snowiest month of the season, both Heavenly Mountain and Homewood Mountain announced Tuesday that they would be extending their season by one week.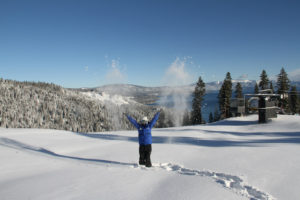 With more than 12 feet of new snow received in March, Heavenly Mountain announced it would extend the season for skiers and snowboarders through Sunday, April 22. The original closing date was April 15. Multiple snow storms throughout March lifted Heavenly's season snow total to 266 inches.
Homewood Mountain has extended its winter season until April 15, altering its original plan to possibly close by April 8. Homewood will offer complimentary skiing and snowboarding for anyone who purchases their 2018-19 season pass now. Hit by multiple storms throughout the month, Homewood has 331 inches of snow season to date.
Heavenly's spring ski season offers a fun-filled lineup of spring activities, including Spring Fling Rail Jam on March 24, the annual Gunbarrel 25 endurance race on March 31, a live music event featuring Vokab Kompany on March 31, and the Pond Skim Party on April 7.
"We're thrilled to offer our guests great spring skiing and riding conditions, as well as a variety of spring activities for visitors at Heavenly Mountain," said Mike Goar, senior vice president and chief operating officer of Heavenly Mountain Resort. "With more snow in the forecast over the next several days and great conditions, we're also excited to extend the season for our pass holders offering them additional opportunity to take advantage of amazing spring conditions on the mountain."
Located on the West Shore of Lake Tahoe where the mountains meet the lake, Homewood is known for its fabulous views and often has uncrowded slopes. The resort's season pass lineup includes an unrestricted season pass starting as low as $299 for a limited time for returning passholders.
Season passes are on sale at the resort's lowest available price in limited quantities. The season pass sale will end on the resort's closing day (April 15), with passes then moving to their regular rates.
"Thanks to the incredible snowfall over the past month, we've decided to extend our season to give our guests even more opportunity to enjoy the phenomenal conditions and make the most of their current or next year's season pass," said Kevin Mitchell, general manager of Homewood Mountain Resort.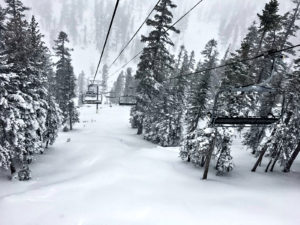 Although considerable snow has fallen throughout March, many Lake Tahoe ski resorts will still be shutting down by mid-April, pulling down the curtain on their 2017-18 season.
Kirkwood Mountain will be the first Lake Tahoe ski resort to close, its final day scheduled for Sunday, April 8. An additional seven Lake Tahoe ski resorts, including Northstar California and Sugar Bowl, will shut down April 15.
Mt. Rose will again be one of the last Lake Tahoe ski resorts open this season. The closing date for the Nevada resort is Sunday, April 29.
Once again, Squaw Valley Alpine Meadows will stay open longer than any Lake Tahoe ski resort. Closing day for Squaw Valley Alpine Meadows has been scheduled for May 28 (Memorial Day), weather and conditions permitting. The High Camp Hot Tub, a spring skiing tradition, will open March 31, if the weather cooperates. A year ago, Squaw Valley closed in mid-July.
Tentative 2018 Closing Dates
Kirkwood Mountain: April 8
Diamond Peak: April 15
Northstar California: April 15
Soda Springs: April 15
Boreal Mountain: April 15
Homewood Mountain: April 15
Sugar Bowl: April 15
Tahoe Donner: April 15
Granlibakken: April 16
Heavenly Mountain: April 22
Mt. Rose: April 29
Squaw Valley: May 28
Alpine Meadows: May 28
Sierra-at-Tahoe: TBA