Diamond Peak ski resort in Lake Tahoe will be holding a Retro Ski Film series that honors Warren Miller.
A famed ski filmmaker, Miller passed away last week. The seven-week film series begins Feb. 15 and features five of Miller's entertaining and amazing ski films. The family-friendly film series is every Thursday evening through March 29.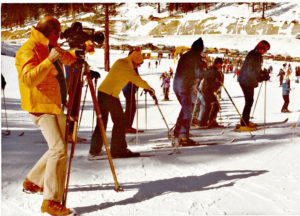 Over the years, Miller filmed at numerous Lake Tahoe ski resorts, including Diamond Peak in 1969, when it was called Ski Incline.
"With the passing of Warren Miller, all of us at Diamond Peak are really hoping that our upcoming Retro Ski Film Series – featuring five of his classic films – will be a fun way to remember and pay tribute to the man who inspired so many of us to want to live in the mountains and work in the ski industry," said Paul Raymore, marketing manager for Diamond Peak."
Located in Incline Village, Nevada, the affordable, family-friendly resort offers 655 acres and 1,840 vertical feet of skiing and snowboarding. The resort has incredible views of Lake Tahoe, terrain for all levels, and some of the best tree skiing in the Tahoe Basin.
Back by popular demand, Diamond Peak will once again host the free Retro Ski Film & Speaker Series at the Chateau Ballroom (955 Fairway Blvd.) at Incline Village. The Chateau will offer a no-host bar and popcorn at each event.
After a successful inaugural run last winter, the Retro Ski Film & Speaker Series will again include brief presentations by local historians, filmmakers and/or former Diamond Peak employees, followed by screenings of classic Warren Miller ski and snowboard films from the 1970s through the 1990s.
"We're really happy to bring this retro ski film series back for another year," Raymore said. "It is going to be an honor to present five of Miller's classic films to the Lake Tahoe community. Hopefully everybody will be inspired by the humor and love for all things ski-related that Warren brought to every film he released."
Events will begin at 5 p.m. with a brief presentation covering some aspect of the history of skiing in Tahoe, the history of Incline Village, or other related topics. Retro ski films will start around 5:30 p.m. and run for approximately 90 minutes.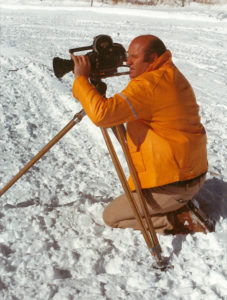 Schedule of events & films:
Thursday, Feb. 15: Warren Miller's "Winter People" (1972) & speaker Mark McLaughlin – "History of the 1960 Winter Olympics at Squaw Valley"
Thursday, Feb. 22: Warren Miller's "In Search of Skiing" (1977) & speaker Richard Antell – "Lake Tahoe weather history"
Thursday, March 1: Warren Miller's "Snowonder" (1982) & speaker Mark McLaughlin – "Reign of the Sierra Storm King"
Thursday, March 8: Warren Miller's "White Winter Heat" (1987) & speaker Mark McLaughlin – "History of Lake Tahoe and the Comstock"
Thursday, March 15: Warren Miller's "Steeper & Deeper" (1992) & speaker Richard Antell – "Celebrities of Lake Tahoe's northeast shore"
Thursday, March 22: Weather make up date or local ski/snowboard film
Thursday, March 29: Weather make up date or local ski/snowboard film
For more information, visit DiamondPeak.com or call 775 832–1177.