Winter is back – at least for a one day at Tahoe ski resorts, where joyful skiers and riders were treated to a fair amount of new snow for the first time in 2022.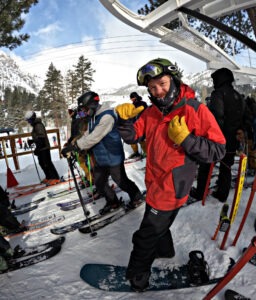 Eight Tahoe ski resorts began Tuesday morning (Feb. 22) with 10 or more inches of fresh snow. And due to the cold temperatures, the snow was light, perfect for a rare powder day this season.
SEE TAHOE SNOW REPORT BELOW
The snow was an extremely welcome sight. After getting bombarded with snow the last two weeks of December to kick-start the season, Tahoe ski resorts received practically no snow prior to this latest storm.
Located on Tahoe's West Shore, Homewood Mountain received the most one-day snow among Tahoe ski resorts, reporting 19 inches Tuesday morning at its summit. That brought its season snow total to 286 inches.
Mt. Rose received 14 inches overnight and has 18 overall in the past 48 hours, giving the Nevada ski resort 300 inches this season. Northstar California also has reached the 300-inch mark for the 2021-22 season.
Tahoe Donner also got 14 inches Tuesday at its peak. Northstar received 13 inches, both Palisades Tahoe and Heavenly had 12 inches, while Sugar Bowl and Boreal reported 10.
"Wahooooo! It's a powder day. No denying that today's tracks will be deep, fresh, and a powder hound's dream," a message on the Sugar Bowl website stated. "Finally, after the long dry spell, we have a proper dumping."
Palisades, which has 284 inches of snow this season, reported that the "flakes are falling in the Sierra once again. After a very dry January, it's great to see a much-needed blanket of snow this morning."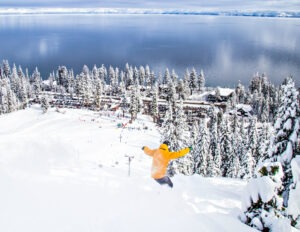 The National Weather Service in Reno has a winter weather advisory through 10 a.m. Tuesday morning. The weather service says the snow could continue in flurries throughout Tuesday and a few more inches of snow may fall.
RECORD DECEMBER, FOLLOWED BY DROUGHT: With three days left in December 2021, Lake Tahoe's snowfall record had already been shattered.
The new total was 202 inches, according to the Central Sierra Snow Lab, which does its regular measurements at its Soda Springs location on Donner Summit.
The previous Tahoe snowfall record was 179 inches, set in 1970.
WEATHER FORECAST: A day of powder skiing was certainly welcome by area skiers and riders. However, the downside for the next few days is the temperatures are very cold for Tahoe ski resorts.
After many spring-like days in January and February, Tuesday was a day to dress warm with temperatures in the teens at many Tahoe ski resorts and not getting out of the 20s in the region.
Wednesday is expected to be another cold day with similar temperatures, then rising to the 30s by Thursday. Winds are expected to be a slight factor both days.
TAHOE SNOW REPORT (reported Feb. 22)
Homewood: 19 inches
Mt. Rose: 14 inches
Tahoe Donner: 14 inches
Northstar: 13 inches
Palisades: 12 inches
Heavenly: 12 inches
Boreal: 10 inches
Sugar Bowl: 10 inches
Alpine Meadows: 9 inches
Kirkwood: 7 inches
Soda Springs: 7 inches
Diamond Peak: 7 inches
Granlibakken: NA