A question that may not be answered until this winter is lingering:" What will this year's ski season look like?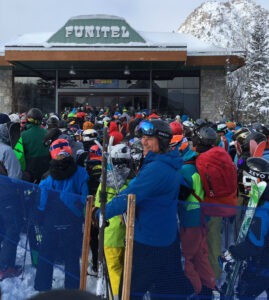 The Coronavirus pandemic ended the 2019-20 ski season prematurely. Tahoe ski resorts and ski resorts worldwide shut down resorts in mid-March and never reopened for skiing and snowboarding.
If the 2020-21 ski season takes place, there are naturally plenty of concerns that need to be addressed to assure skiers and riders can participate safely.
While skiing inherently involves face covering and social distancing, and is a low-risk activity for COVID-19 transmission, a lot of things people do related to skiing pose significant risks.
One area is eating and drinking. Most skiers and riders have lunch in busy cafeterias. After a day on the slopes, they drink in bars and gather in crowded restaurants. They ride together in buses to get around ski towns. And some ski-related jobs, particularly in food service, entail putting workers together in close quarters indoors.
Dr. Ashish Jha, a professor at the Harvard School of Public Health, director of the Harvard Global Health Institute, recently had some thoughts on what aspects of the ski experience could and could not be made coronavirus-safe.
"The lowest risk is coming down the mountain," said Jha, a skier. "Even if you bump into somebody, crash into someone, it's fine (from a COVID-19 perspective, if not an orthopedic one)."
How safe is riding a chairlift?
"It's probably fine. You share someone's space for five minutes, but it's outside, it's usually windy, I think you can probably get away with it," Jha said. "If you want to put family members together, or have people go up by themselves, that's probably marginally safer, but I don't think it's a huge deal."
Is a gondola, where as many as eight skiers share a small, enclosed box as they ride up the mountain, any safer than a chairlift?
"You probably want to open them up a little bit and ventilate them, have some amount of fresh air going in, and get people to wear face masks, and that might be okay," Aja said. "But that starts getting a little bit riskier if it's a long gondola ride."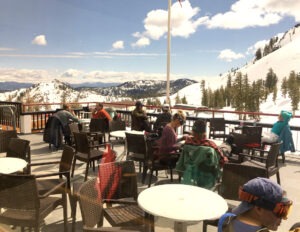 What about when skiers and riders converge at lodges, restaurants and cafeterias where they dine and warm up in between cold runs?
"That's incredibly high risk, if you have an indoor space with lots of people," he said.
While face masks help indoors, a lot of what people do indoors on ski mountains is eat and drink, where they will want to take their face coverings off. At least under normal conditions, on-mountain lodges are often crowded and convivial spaces. Even in non-pandemic conditions, skiers usually wear face coverings for warmth; one of the pleasures of stepping inside the lodge is normally that you get to take your sweaty balaclava off, have a drink, and chat with others.
Ski resorts and towns were significant hubs for transmission of COVID-19 this past winter, especially in Europe. Austrian researchers found a 42 percent prevalence rate of coronavirus antibodies among residents of the Tyrolean ski town of Ischgl, among the highest observed anywhere in the world.
Alterra Mountain Company, which owns Squaw Valley Alpine Meadows, has put together an 111-slide (and growing) guide to best practices for coronavirus suppression, with masks and social distancing as cornerstones. They have implemented disinfection protocols and installed plexiglass dividers similar to what you now see in many retail stores.
Alterra is building large, tented dining spaces in parking lots in order to be able to space dining tables farther apart than usual. But much of the plan for how to run a ski resort this winter is to-be-determined, depending on the prevailing virus conditions and the emerging research about what causes and prevents transmission.
Despite precautions, it remains to be seen if there will be any skiing or riding when the ski season arrives.