Two days of snow proved beneficial for Tahoe ski resorts, who will be enjoying a solid weekend of fresh snow for skiers and snowboarders.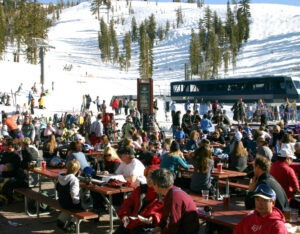 Snowfall began Thursday afternoon and continued off and on through Friday evening, dumping between 4-18 inches on Tahoe ski resorts by Saturday morning (March 20).
Sugar Bowl benefitted the most from the storm, getting 11 inches by Friday morning and having a two-day total of 18 inches. Boreal Mountain totaled 15 inches, while Sierra-at-Tahoe, Squaw Valley and Kirkwood Mountain all had 14 inches.
"This storm definitely lingered over Sugar Bowl and the rest of Donner Summit longer than it did in many other places around the lake, bumping up our storm total to 18 inches over the multi-day storm," according to a weather blog on the Sugar Bowl website. "The snow is definitely on the heavy side, but nothing we're not used to in the Sierra, right?"
TAHOE SNOW REPORT (March 19-20)
Sugar Bowl: 11-7 – 18 inches
Boreal: 9-6 – 15 inches
Sierra-at-Tahoe: 6-8 – 14 inches
Kirkwood: 9-5 – 14 inches
Squaw Valley: 6-8 – 14 inches
Alpine Meadows: 6-5 – 11 inches
Soda Springs: 7-2 – 9 inches   
Northstar: 7-1 – 8 inches  
Heavenly: 5-2 – 7 inches
Homewood: 4-3 – 7 inches
Mt. Rose: 6-1 – 7 inches
Tahoe Donner: 3-1 – 4 inches
Diamond Peak: 3-1 – 4 inches
The snowfall comes at an opportune time for skiers and snowboarders, setting up what should be a good weather weekend. According to Bryan Allegretto, California Snow Forecaster for OpenSnow.com, the heaviest precipitation stayed to the south of the Tahoe Basin throughout much of Thursday and Friday.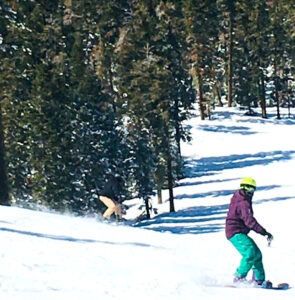 "It's looking snowy on the mountains this (Saturday) morning. A nice refresh of the slopes with some wetter snow," wrote Allegretto.
WEEKEND WEATHER: Allegretto is forecasting isolated snow showers continuing through Saturday and into the evening, before clearing out tonight. He anticipates a dusting of an inch of snow on the mountains that see snow showers move over them.
It will be breezy at many Tahoe ski resorts with ridgetop winds still gusting up to 40-plus mph at times. The high temperatures will be in the 30s at lake level and 20s above 8,000 feet.
Sunday should be mostly sunny skies and lighter winds. Highs will likely warm into the 40s at lake level and 30s in the upper mountains.
There is no snow in the forecast for early next week. However, there could be a few snow showers Thursday with a dusting to an inch or two of snow on the mountains.