The mounting frustration continues for Tahoe skiers and snowboarders.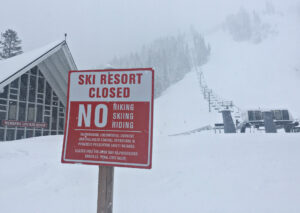 The snow keeps piling at Tahoe ski resorts, but also rising is the irritation among the ski and ride crowd due to lift closures and severe weather conditions like high winds and whiteout conditions.
CHECK OUT TAHOE SNOW REPORT BELOW
Mother Nature is being cursed on social media a lot these days. High winds, rain mixed with snow, and barely a break in the weather has taken place at Tahoe ski resorts over the past 2½ weeks. And the trend should continue for another 10 days or more.
"It's becoming Groundhog Day here because we're just getting so much snow day after day," Patrick Lacey, a Palisades Tahoe spokesperson, told the San Francisco Chronicle. "If there's a big snow day, (a closure is) almost always weather-related."
Monday (Jan. 9) was typical of the recent period. At Mt. Rose, the resort decided early it would not be opening. At Palisades Tahoe and Northstar, a lightening strike shut down operations for a while.
By late morning, Northstar announced its popular Backside area would remain closed all day due to high winds. Palisades never had its Funitel or Resort Chair running and the road to Alpine Meadows was closed in the morning because of avalanche control.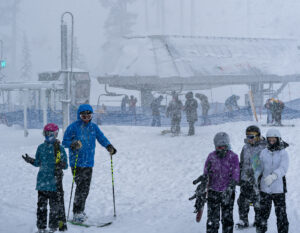 At the noon hour on Tahoe's south shore, Heavenly had closed its Nevada side for the day. The news at Kirkwood was even worse. It never opened, offering this message on Twitter. "Due to sustained winds at 80 mph and gusts over 100 mph, we are unable to spin chairs to conduct snow safety work at the top of the mountain, which impacts all chairs. All chairs will be CLOSED for today."
Even working around the clock on weather-impacted days, Tahoe ski resorts still shut lifts down during dangerous weather conditions in high wind or when avalanche risk is too high. Resort crews use both automated weather detectors and their training to spot dangerous conditions.
SNOW TOTALS NEARING 300 INCHES: Every Tahoe ski resort is reporting snow totals that are high for this early in the season. Several them are getting close to the 300-inch mark. Prior to the Christmas holidays, no resort had even reached 200 inches.
Sierra-at-Tahoe received 11 inches by Monday morning that upped its 2022-23 season total to 283 inches, the most among Tahoe ski resorts. Boreal is challenging Sierra for the most snow in the region, reporting 282 inches.
Palisades Tahoe has experienced steady snow totals for nearly three weeks and has 268 inches. Kirkwood has gotten 283 inches and Sugar Bowl is not far behind with 256.
"You can get a lot of snow that's good for your season, but if you get too much snow all at once, it'll shut down operations," said Adrienne Isaac, director of marketing and communications for the National Ski Areas Association.
WEATHER FORECAST: Expect more of the same – snow, wind, some rain – throughout this week. The forecast is calling for as much as 5 feet of new snow by the end of the week.
A storm moves in early Tuesday with heavier snowfall in the morning, then becoming lighter in the afternoon, and getting heavier again in the evening hours. Snow showers will continue Wednesday into the evening. Ridgetop winds could be gusting up to 40-50-plus mph at higher elevations Wednesday.
There will likely be a break in the weather Thursday, making it the best day of skiing and riding this week. Expect partly sunny skies with highs into the 40s at lower elevations.
Another storm is expected to descend on Tahoe ski resorts Saturday as the three-day, Martin Luther King holiday begins. Some forecasters are predicting low snow levels and gusty winds.
TAHOE SNOW REPORT (January 9)
Sugar Bowl: 15 inches
Kirkwood: 11 inches
Sierra-at-Tahoe: 11 inches
Boreal: 11 inches
Mt. Rose: 10 inches
Homewood: 10 inches
Soda Springs: 10 inches
Tahoe Donner: 10 inches
Northstar: 9 inches
Palisades Tahoe: 8 inches
Diamond Peak: 6
Heavenly: 5 inches
Granlibakken: NA