Vail Resorts in Lake Tahoe continues to open more terrain for skiers and snowboarders, thanks to additional snow this week.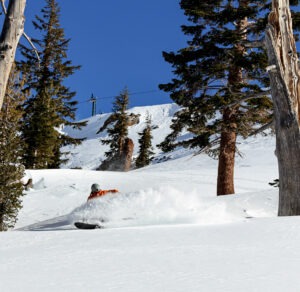 Heavenly Mountain, Northstar California and Kirkwood Mountain each have more than 70-percent of terrain open, with additional terrain opening for Northstar and Heavenly soon. Kirkwood has been 100-percent open, with Northstar set to open The Backside and Heavenly making the Boulder Lodge base area available.
Backside Open at Northstar: Northstar California opened The Backside and The Backside Express Friday (Dec. 20), following the opening of Lookout Mountain earlier this week, bringing total run count to 83 trails and doubling skiable acreage to 2,221.
Located off Highway 267 in Truckee, Northstar has received over 10-feet of snow this winter, with nearly more than 7-feet in December alone.
At Northstar, a New Year's Eve celebration will feature music and entertainment all afternoon with fireworks starting at 9 p.m. Other offerings include a S'moresapalooza on Saturday (Dec. 21) and buffet breakfast and photo opportunity with Santa on Dec. 24.
As always, enjoy daily traditions of 2 p.m. tōst at Lake Tahoe's only ski up bar and complimentary s'mores at 4 p.m. in the Village. Note that free parking now begins at 2 p.m. in all lots. Visit NorthstarCalifornia.com.
Heavenly update: The famed South Lake Tahoe ski resort opened all gates earlier this week to expert terrain in Mott Canyon and currently has more than 80 open trails across 3,800 acres of skiable terrain.
Heavenly is offering skiers services from Heavenly Village, Stagecoach Lodge and California Lodge, and plans to open Boulder Lodge this weekend. Over 10-feet of snow has fallen so far this winter at Heavenly, with nearly 6-feet in December.
Heavenly Holidays transforms the Heavenly Village into a holiday winter wonderland with lights, decorations, music and ice sculpting. It all culminates on New Year's Eve with a live band, firework display and brightly-lit Gondola that descends over the crowd, signaling the start of the New Year.
Additional events include a Tahoe Santa Ski & Crawl on Dec. 21, free s'mores at the fire pits at Fire and Ice in Heavenly Village from 2-5 p.m. Dec. 26-30. Visit SkiHeavenly.com.
Kirkwood report: Located off Highway 88 near South Lake Tahoe, Kirkwood opened all terrain last week, and was among the first Tahoe ski resorts to be 100-percent open.
Kirkwood has received more than 11-feet of snow already this season, including more than 7-feet of snow to start the month of December. The resort has received more than a foot of snow in the past week.
At Kirkwood, skiers and riders can ring in the New Year with a torchlight parade, bonfire and fireworks show. Visit Kirkwood.com.