Thanks to a snowfall that delivered in feet – not just inches – four more Tahoe ski resorts will be open this weekend.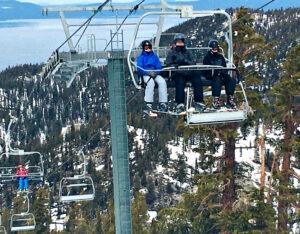 The three Vail Resorts in Lake Tahoe – Heavenly, Northstar, Kirkwood – announced Thursday morning its opening day will be Saturday (Nov. 12). Boreal Mountain will open one day earlier, joining Mt. Rose, which announced earlier this week it would be open starting Friday and operating through the weekend.
The Vail Resorts pushed up the Heavenly and Northstar openings by almost a week and Kirkwood wasn't scheduled to open until Dec. 2.
"We are thrilled to welcome skiers and riders back to Heavenly, Northstar, and Kirkwood for the upcoming season even earlier than we anticipated," said Tom Fortune, VP & COO of Heavenly and the Tahoe Region. "Mother Nature came through for us, allowing natural snowfall to fly and pile up while also giving us the temperatures needed for our snowmakers to do their best work."
Early season terrain will be accessible at all three resorts, listed below.
Northstar Lifts: Big Springs Gondola will open at 8:30 am with Vista, Arrow and Big Easy starting at 9 am.
Heavenly Lifts: Tram, Gunbarrel, Patsy's and Powderbowl will open starting at 8:30 am.
Kirkwood Lifts: Chair 5 (Solitude) will open starting at 9 am.
Mt. ROSE OPENING: For opening weekend at Mt. Rose, top-to-bottom skiing and riding will be available from 9 am to 4 pm Friday through Sunday from the resort's Main Lodge.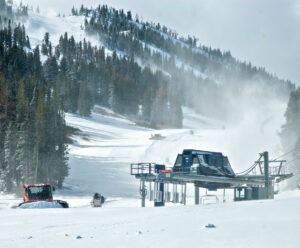 Lifts likely to be operating include the Northwest Express and the Wizard beginner lifts, offering access to most of the beginner, intermediate and some advanced terrain on the Main Lodge side of the mountain.
All parking will be at the Main Lodge. Services will include the Lodgepole Cafe, Timbers Bar, Tuning center and rental shop, with season lease pick-up available. The Lodge will open at 8 am. All ski school lessons will begin Nov. 19.
Mt. Rose will be closed mid-week – Nov. 14-18 – so workers can finish the new Lakeview Express chairlift. The ski resort expects to reopen for daily operations Saturday, Nov. 19.
The Lakeview zone, a $7.5 million on-mountain expansion, will enhance and change the way skiers and riders experience Mt. Rose. The Lakeview lift caters to low-level and intermediate skiers and snowboarders, and the trail offers expansive views of Lake Tahoe and is the preferred route to access the popular Around the World trail.
DODGE RIDGE OPENING: The central California ski resort will feature opening day Friday on its new Triple Nugget Chairlift 1, which was installed this summer. It's the resort's earliest opening in 20 years.
Dodge Ridge will also have Chairlifts 3, 5 and lessons on the Magic Carpet this weekend. The resort will work to open the Prospector Chairlift 7 for weekend operations if possible.
The resort will have a "celebration of winter" with its annual competition to see who can get first chair opening day. Prizes will be awarded for the first three skiers or boarders to load the Motherlode Chairlift 3 at 9 am.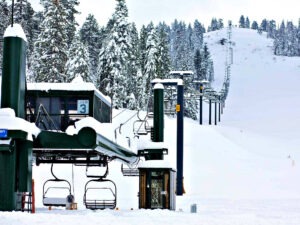 For the opening weekend, lift ticket prices will be reduced to $89 for adults and teens, $69 for seniors and $32 for youth. Veteran's Day is Friday and the resort will have free lift tickets for all active military and veterans who provide military ID at the ticket window.
GRANLIBAKKEN OPEN FOR SLEDDING: A favorite location for families, Granlibakken will open its sizable sledding hill this weekend.
Located in Tahoe City along Highway 89, historic Granlibakken is a secluded resort close to many Tahoe ski resorts that is sheltered in the Sierra Nevada pine trees at 6,350 feet.
Although skiing is currently not available, Granlibakken received 30 inches from this week's storm, making for an excellent weekend for sledding.
TAHOE SNOW REPORT, OPENING DATES
Mt. Rose: 15 inches, Nov. 11
Boreal: 21 inches, Nov. 11
Northstar: 18 inches, Nov. 12
Heavenly: NA, Nov. 12
Kirkwood: 29 inches, Nov. 12
Palisades: 34 inches, Nov. 22
Sugar Bowl: 30 inches, Nov. 25
Diamond Peak: 7 inches, Dec. 8
Tahoe Donner: 24 inches, Dec. 9
Granlibakken: NA, Dec. 18
Sierra-at-Tahoe: 39 inches, TBA
Soda Springs: 12 inches, TBA
Homewood: 52 inches, TBA