It was a relatively quiet Tuesday in late January at Heavenly Mountain Resort, one of those days where the lifts were fairly empty and it wasn't difficult to find a run with only a few skiers and riders.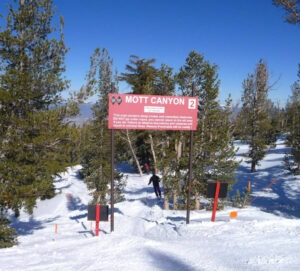 Heavenly ski resort is an enormous resort that features 28 lifts, 97 trails and is stretched out over 4,800 acres. While most midweek days the crowds are modest, that's not the case on weekends, where the lift lines are sizable and finding an isolated run can prove difficult.
Yet here's the thing about Heavenly – the mountain has more secret stashes where opportunistic skiers and riders can veer into than any other resort in the Lake Tahoe region. Don't believe it? Check out a trail map. Heavenly is a veritable mountain of trees, which means the pursuit of fresh snow in a relatively uninhabited location is sometimes an endless journey following a good snow storm.
Even several days after a snow storm, some fresh powder may be available in certain locations like the Stagecoach chair on the Nevada side. However, it's nothing a person could spot riding up the chairlift. It may require a dip into Scorpion Woods to discover some freshies amidst a grove of somewhat intimidating trees that will leave many people content to remain on the nearby groomers.
Even on days following a storm, powder may be discovered in Galaxy Woods. Gliding effortlessly through the trees in several feet of powder that would likely be gone later in the day makes waking up early well worth the effort.
What many of the locals know and are reluctant to share is this: "Hidden Heavenly" is an apt term for a ski resort where there's more than meets the eye.
If you ride up the Siberia chair at Squaw or The Wall at Kirkwood, skiers and snowboarders can see the mountain laid out in front of them. But when one rides up a lift at Heavenly there's often no idea what's below other than the groomed trails.
At Heavenly, there are different places to go on literally every chair that not many people know about. It makes no difference where one ventures around Heavenly – California side, Nevada side; beginner lifts or the narrow chute-laden areas off Mott and Killebrew Canyons – the exploration is endless.
The wooded areas off famed Gunbarrel – East Bowl Woods – are also great locations for advanced skiers. The wooded areas off famed Gunbarrel – East Bowl Woods – is also a terrific location for advanced skiers.
But tree runs are not just for experts. Off Powderbowl, Canyon and Dipper there are many other chairlifts more suited for the intermediate crowd. There are plenty of intermediate runs where the trees are spaced far apart and there's not that much pitch, so even a low intermediate can do it. A lot of these areas that people go by remain anonymous – hence the term, "Hidden Heavenly."
Tips for Skiing the Trees
Part of the great allure at Heavenly is obviously skiing amidst the trees. However, make sure to have a game plan and keep safety issues at the forefront when surrounded by trees.
Tree safety
Don't look at the trees, look at the gaps in between the trees.
Keep the eyes forward and have an idea of where you want to go by plotting a path.
Work on making a lot of short radius turns on groomed runs, which will be helpful when among the trees.

Heavenly ski resort features some gorgeous views of the lake and the Carson Valley. The tree skiing is the best in the Tahoe region.
If new to the South Lake Tahoe resort, note that Heavenly offers tours for individuals or groups that include a day-long guided mountain tour into undetected areas. The session can also come with some helpful ski or riding tips.
Guided tours & lessons: Heavenly's current lesson and guide offerings can be found here. It includes some of the following below.
Private lessons let skiers and riders customize the day – ideal for a family wanting to learn together.
Tailored lessons that best suit individual skill levels and styles.
Families can explore the mountain with a personal concierge/coach.
Learn about local knowledge, trivia, and secret stashes that are often missed.
Gain immediate access to the slopes thanks to exclusive ski school lift lanes for maximized mountain time.
Receive instant, individualized, and constructive feedback in a group setting.