The redesign has been long overdue, so one must applaud Toyota for finally making significant changes to the venerable Sequoia SUV.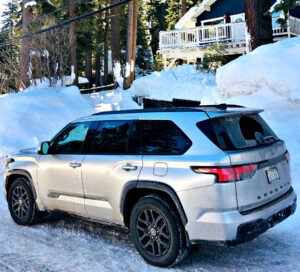 The 2023 Toyota Sequoia is redesigned from the ground up. It has a more powerful turbo engine that helped increase towing capacity. It also comes with sharper exterior styling, a much-improved cabin, better fuel economy (19-24 mpg), and an all-new infotainment system.
However, the Sequoia still has its drawbacks. For a full-size SUV, the third row remains snug. The cargo space is now smaller and trails the competition. The Sequoia retains its bulky driving feel and there's an overall lack of driving sophistication, a common complaint of most large SUVs.
Declining sales have been significant the past three years when the Sequoia failed to reach more than 8,070. And frankly, sales have not been good for a long time. The Sequoia has not exceeded more than 13,848 sold since 2009, way off its best year for sales, 70,187 in 2002.
With the popularity of smaller SUVs, larger ones like the Sequoia have suffered. It's gotten so bad that a year ago Toyota decided to pull the once popular Land Cruiser from its lineup, leaving the Sequoia as the lone large SUV. Note that its luxury brand – Lexus – has a pair of three-row SUVs.
Sequoia is now the longest, widest and tallest SUV in the Toyota lineup, It has three rows and can seat either seven or eight passengers, depending on the configuration. It's major rivals are the Chevrolet Tahoe, Ford Expedition and Jeep Wagoneer.
Although not designed for serious off-roading, the Sequoia can go there, despite its modest 8.7 inches of ground clearance. The optional off-road package offers a two-speed transfer case with high and low-range gearing, crawl control, all-terrain tires, skid plates, and a locking rear differential.
By far, the biggest improvement in the Sequoia has come with the all-new hybrid engine, giving the SUV improved acceleration. The engine is a 3.4-liter, V6 that generates 437 horsepower and 583 pound-feet of torque, and comes with a 10-speed automatic transmission. It travels 0-60 in 5.6 seconds.
Rear-wheel drive is standard with the Sequoia and four-wheel drive is available. Maximum towing is 9,520 pounds – around 2,100 pounds more than the previous model.
The Sequoia's standard driver safety assistance features are numerous – front and rear parking sensors, surround-view parking camera system, blind-spot monitoring with rear cross-traffic alert, forward collision warning with pedestrian and cyclist detection, forward automatic emergency braking, lane-departure warning with lane-keep assist, adaptive cruise control with lane centering, automatic high-beam headlights, traffic-sign recognition, and rear-seat alert.
AT A GLANCE – 2023 TOYOTA SEQUOIA
Performance: 3.4-liter, V6, 437 horsepower
Mileage estimate: 19-24 mpg
Price estimate: $58,400 to $78,400
Warranty: 3 years/36,000 miles; drivetrain: 5 years/60,000 miles; roadside assistance: 2 years/25,000; corrosion: 5 years/unlimited
The interior is much improved, starting with the attractive design. There are many soft-touch surfaces and wood accents available in upper-end trim models. The standard 8-inch touchscreen is reachable for the driver, and the menus and large icons make it easy to read and operate. Also standard is wireless connectivity for Apple CarPlay and Android Auto, satellite radio, eight-speaker stereo, Bluetooth, Wi-Fi hot spot, and multiple USB ports.
The first two rows of seating are spacious for even larger people, while the third row is primarily for kids. Cargo space is 22.3 cubic feet behind its third row, 49 cubic feet with the third row down, and 86.9 cubes with both rows to the floor.
A long overdue redesign took 14 years and hopefully isn't too late to rescue the Sequoia from the fate of the extinct Land Cruiser. Many of the improvements are significant and make the 2023 Toyota Sequoia a much better large SUV.
Weidel on Wheels is featured regularly on www.tahoeskiworld.com. Auto writer Jeffrey Weidel can be reached at skiweidel@gmail.com. Follow him on Twitter at @jeffweidel.