Thanks to the hard work and ingenuity of firefighters, plus the use of snowmaking machines, three Lake Tahoe ski resorts are surviving right now amidst the Caldor Fire.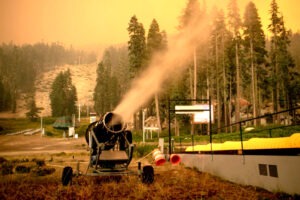 Located off Highway 50, Sierra-at-Tahoe was the first Tahoe ski resort to utilize its snowmaking equipment to shoot out water, creating moisture in the air that in the cold winter months condensates and turns into snow.
Heavenly Mountain and Kirkwood Mountain have both since utilized the same method. Both resorts are owned by Vail Resorts.
All three Tahoe ski resorts, with a major assist from attentive firefighters, have reportedly avoided any significant damage to structures and ski lifts as of Sept. 3 (Friday morning).
With the Caldor Fire bearing down on Heavenly and Kirkwood, Vail Resorts officials said they turned on their snow guns to help firefighters stop a blaze that has grown to roughly 211,000 acres and is 25% contained as of Friday.
Heavenly and Kirkwood mimicked Sierra-at-Tahoe, which began planning to use snow guns about a week ago, when its management realized the fire could potentially make its way up the canyon.
Snow machines can pump up to 150 gallons of water a minute at pressures up to five times a typical a fire hose. Some were mounted on poles, and others are portable. They draw water from reservoirs and wells on ski areas. Heavenly has two reservoirs, including a hue one that holds 50 million gallons.
SIERRA: The Caldor Fire burned through Sierra-at-Tahoe on Monday, but most facilities, including the lodge, administration building and gear shop were saved.
"We had them in place preventatively and we had a snow-making system all charged up and ready to go," said Sierra-at-Tahoe General Manager John Rice. "As the fire got to Camp Sacramento and started coming toward us, we turned them on."
Despite the efforts, everything has not been saved. At Sierra-at-Tahoe, the resort's upper maintenance shop was lost among other buildings. The maintenance building was made totally of cinder block and unexpectedly burned while other buildings were saved.
By Wednesday morning, a major operation was underway to convert Heavenly's two massive parking lots into an incident command post to provide support for 1,500 firefighters.
Fighting the Caldor Fire has meant close communication with Cal Fire, the United States Forest Service fire team, the local Fire Department, and other local organizations.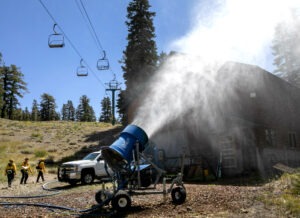 HEAVENLY: Bill Clark, supervisor of snowmaking at Heavenly, worked through Tuesday night into Wednesday morning with multiple co-workers, setting up and maintaining the machines along the side of the mountain.
Other fire defenses being currently used are snowmaking hydrants that are pressurized and ready, along with hoses that have been placed around the mountain for the firefighters. Sprinklers have been placed on roofs, and continuously ran for three days to prevent further damage from the fire.
Other areas, like parking lots and lifts, have been made available as well. Employees been evacuated from the facilities and have been provided with emergency support services.
"During this time, while our property and structures are important, it's the people that remain our top priority," said Vail Resort officials in a statement Wednesday.
KIRKWOOD: At Kirkwood, embers from the main fire reached the property Wednesday. About 25 firefighters from both San Mateo County and Cal Fire were called to the ski resort off Highway 88.
A sprinkler sprayed water in two directions at the base of Kirkwood Village near a ski lift, while snowmakers shot mist in the air that gusty winds pushed back into the hillside.
Even though the fire has burned all around the nearby Kirkwood Lake, vacation cabins in the area reportedly have been undamaged so far.
One key to protecting buildings was thermo-gel fire retardant. A crew from AGI Insurance used it on the outside walls of buildings. Besides applying the gel, AGI used weed whackers and chainsaws for nine consecutive days to help protect major buildings when the fire came through.
"They just showed up and said, 'We're here to help you,'" Rice said.
WHAT'S NEXT? Optimism has spread among the fire crews as winds that have been gusting to 35-40 mph over the last two days, subsided overnight and firefighters were not forecast to return through the weekend, though higher temperatures are anticipated.
"Tahoe is still at risk, so people are going to remain evacuated," said Cal Fire spokesman Keith Wade. "Along the south end of this fire, Alpine County, Douglas County, Amador County, all three are at risk still."